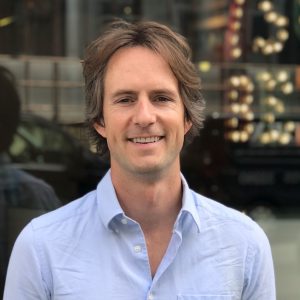 MarComm's Star Parade is a series where we shine the spotlight on some of the global stars from the Marketing and Communications industry, and Jamie Williams has been a creative beacon for over 15 years now.
He joined isobel in 2012 and put on the big boots as their Managing Partner. 'If you need a deal made, he's the guy to make it,' say the agency.
But don't take our (or isobel's) word for it! We'll let Jamie do the talking for himself…
Q) Give us a brief insight into your career so far?
A) I started as a runner working for a film production company in New York, and through that experience, discovered advertising. My girlfriend (and now wife) wanted to move to London, so we did, and I got a job at JWT in account management, predominantly working on the global Vodafone account. I then worked at DLKW and M&C Saatchi (in a constantly travelling international team – working in Georgia, Saudi Arabia, Nigeria and other fascinating places), before joining isobel. So a real mix of experiences, which I love.
Q) What according to you is the strongest tool in your skill set?
A) Understanding people.
Q) What is your favourite piece of work that you have helped to create?
A) Difficult to pick just one. But at isobel, probably our Rate Beer campaign for BrewDog. It was brave and provocative, which was fun to be a part of. And the debate and conversation it triggered was brilliant to see.
Q) What is your favourite piece of work you wish you had done?
A) I've always loved the Reebok 'Theatre of Dreams' Ryan Giggs TV ad that Tony Kaye shot, featuring Jarvis Cocker, Sting, Robbie Williams, Tom Jones etc. It was completely different to any other football ad that I can remember. So ambitious. Apparently it took them 18 months to make it. I'd love to have been a part of that project.
Q) Who (if anyone) has been the greatest influence in your career?
A) Probably my Dad. He knew very little about advertising, but lots about life.
Q) What would you change about the industry, if you could?
A) To try and rely less on a pitching culture and more on chemistry. Picking an agency on their output of one brief isn't a great way of doing things, and it burns so much time for everyone involved. There aren't many other industries where a range of competing companies are expected to do all the work up front with no guarantee of an eventual contract.
Q) Tell us something that people wouldn't necessarily know about you?
A) I'm a big country music fan and helped to put on a debut country music festival this year in Essex – Dixie Fields. (It was great by the way, so come along in 2020)
Q) Where would you ideally like to be in your career in the next five-years?
A) Manager of Tottenham Hotspur.