The act of burn buses in Brazil is a sad reality that causes not only financial losses, but mainly social casualties too. From January 2004 until today, more than 2,000 vehicles were set on fire in the country – providing, in addition to delays and less number of available cars, victims that will carry forever the Mark of these actions.
In order to raise awareness of the population, Mercedes-Benz do Brasil started the "I ride and I care" movement, created by Moma agency in 2015. At that time, the campaign was followed by the decrease in the numbers of burned vehicles from 662 in 2014 to 318 until the end of that year.
Now the numbers are growing again: it was 312 only until September 2017, compared to 262 in 2016 fully year, according to National Association of Urban Transport Companies (NTU). Facing this worrisome fact, Mercedes and Moma are starting the second phase of the action, highlighting stories of people who had suffered physical and psychological trauma for being present in these situations.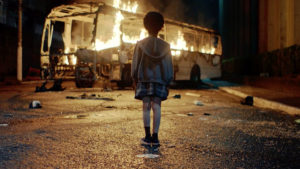 The real story that headlines the new campaign is from mr. Jefferson Alves da Silva, a driver who was injured after his bus gets criminally fired in the São Miguel Paulista neighborhood in São Paulo, five years ago. At that time, he became a hero by saving the life of a physically disabled passenger who could not get out of the veichle. In a film with cinematic language, the situation and Silva's call to emergence asking for help were recreated without the use of special effects.
"The idea of ​​telling this story did not come by accident. We found in Mercedes-Benz social networks a comment from Jefferson himself telling us what's happened that day, which was the inspiration for the new campaign. In the first one, 'I ride and I care' movement focused the impact of material damage on society. Now, we understand that it was time to show how much it damages regular people's life", says Rodolfo Sampaio, partner and creative vice president of Moma.
"With this initiative, along with the concept 'Thinking about the collective. Thinking about the future', we seek to make everybody aware of the relevance of collective transportation. We want people to feel like co-owners of the buses and against any kind of practice that can hit the users, especially the fire cases", says Curt Axthelm, Mercedes-Benz Brazil's senior manager of product marketing. "This situation reaches, directly or indirectly, all the people who use the bus transportation daily", he adds.
A new buss with Jefferson's name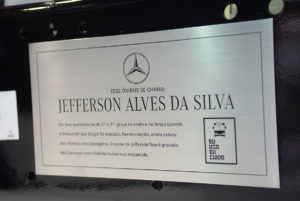 In addition to having his story to be told in the campaign, Jefferson Alves da Silva is receiving another tribute from Mercedes-Benz Brazil, also portrayed in the film itself: baptizing a bus from the company's fleet. His name was engraved on a plaque and inserted into one of the vehicles that will soon be on the streets.
"That day I burned my arm, which left me with scars to this day. But I managed to save a life. Now, I'm glad that this tragedy will serve at least to make society aware of everything bad that happens when someone resolves to burn a bus," he says.
At www.euusoeucuido.com.br, in addition to the campaign pieces and details of Jefferson's history, Mercedes-Benz encourages and offer an open space for other victims of similar acts to tell their stories in text and video, helping to raise public awareness in general on the traumas that the criminal practice provides.
Source: Moma