Mindshare, part of WPP, launched ''Dooonate'' – a tool that enables companies and individuals to donate space in their out-of-office emails to charities.
UK charities spend £22 billion a year on advertising, almost half of which goes to buy digital media. Anything that could help reduce this amount without reducing the effectiveness of charity marketing would make a massive contribution to the efficiency of the UK non-profit sector.
To help reduce this burgeoning cost, Mindshare tasked itself to utilise unused or under-used media and find a new way to help charities spread their message with minimal spend.
As a result, www.dooonate.com was created; a quick and easy-to-use tool that lets anyone donate the space of their out-of-office emails to a good cause in just a few simple steps. The tool is compatible with Microsoft Office 365, used by more than 120 million businesses worldwide, meaning the potential reach is huge.
For example, research undertaken in the UK found that every day workers generate 51 million out-of-office emails.  The majority of those emails will contain just a line or two of text and a lot of empty space. Mindshare estimated the value of this empty space could be worth £1 for every thousand emails – that's the equivalent of £51,000 worth of media space that charities could access every day in the UK alone.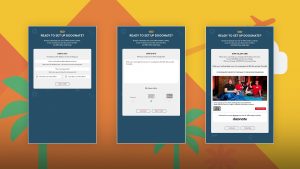 Dooonate is currently in beta testing with three charities – Tommy's, The Big Issue Foundation and The Cure Parkinson's Trust – and is available to 8,000 employees within the GroupM agency network.
It will be available to all Office 365 users, worldwide, from later on in the year.
Stephen Robertson, CEO, The Big Issue Foundation said: "I am delighted with 'Dooonate'. It is a genuine first for the charity sector. Raising funds for vital work is critical for The Big Issue Foundation. 'Dooonate' is a tool that lets everyone take part in a bit of everyday activism, even when they're out of the office. We love it!"
Becky Power, Executive Creative Director at Mindshare, commented: "We wanted to explore ways our industry could use our expertise and talent for a good cause. Every time you see a message from a charity, they've probably paid to get it there. And advertising is not cheap. Dooonate gives charities a free space to send their message straight to people's inboxes. More importantly, every penny a charity doesn't spend on advertising, it can spend on helping people instead."
Source: Mindshare