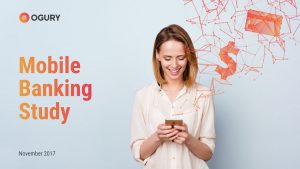 Ogury, the mobile data platform, released its Mobile Banking Study 2017 – an analysis of over 1,265,000 mobile users active during July – September 2017 in the US, UK, Germany, France, Italy and Spain.
The study reveals that UK fintechs are increasing their market share amongst mobile banking users, with 8.8% having downloaded at least one retail bank and fintech app during the period. Despite this, however, the UK's adoption lags the US and Spain.
Of all fintech companies analysed, PayPal is dominant, suggesting that digital-payment services are currently doing more to disrupt the banking market than new challenger banks.
One of the most developed fintech markets is international money transfer, where UK-based TransferWise is a standout performer, registering in the top two money transfer providers in each territory bar Italy, where it placed third. This included number one spots for money transfer providers in the UK, France, and Spain.
Fintech growing in influence
Fintechs are increasing market share with 8.8% of UK mobile users downloading at least one retail and one fintech app during the period from July to September 2017. But the US and Spain have seen higher levels of fintech adoption, with 12.4% and 10.4% respectively.
When it comes to mobile banking websites, less than 5% of UK mobile user profiles have visited both a major bank and a fintech website during the same time period. These stats demonstrate that, while UK consumers are beginning to turn to fintechs, they still need to increase levels of awareness amongst banking users.
And money transfer fintech startups are taking meaningful market share
UK-based TransferWise is a standout performer in money transfer, registering in the top two apps used in each territory bar Italy, where it placed third. This included number one spots in the UK, France, and Spain.
TransferWise has a 36.6% market share in the UK, with Worldremit in second place with 28.2%.
The top two are reversed in the US, with Worldremit at 34.8% and Transferwise at 34.1%.
PayPal remains dominant
The top fintech based on app ownership in the UK is PayPal which appears on 31.2% of devices, followed by Android Pay and Trading 212.
The most popular "challenger" bank app owned by UK mobile user profiles is Vanquis with an app ownership rate of 4.8%.
Barclays the most used retail banking app; Lloyds customers prefer to login on their mobile browser
Barclays' app is the most popular retail banking app, owned by 25.7% of mobile users in the UK. It also sees high level of engagement, with 25.7% of its users regularly active. HSBC comes close second with 18.9% of user engagement.
Lloyd's Bank on the other hand, has the highest mobile browsing rate with 18.2% of UK mobile user profiles browsing Lloyds bank on their mobile web browser. Only 17.6% of Lloyds app owners actually use it the app regularly, the lowest on the list.
Christophe Bize, VP Data and Mobile Analytics at Ogury, said: "Banking and handling money through mobile is now a daily reality for millions worldwide. While much of the media attention appears to be on challenger banks, digital payment services such as PayPal remain dominant, and the true 'disruptors'. Other fintech companies have a long way to go before they match PayPal's level of brand awareness."
"In terms of fintech's international scope, the US is the most advanced market, with more than one in ten US users visiting both a major bank and a challenger fintech website. The same was true for app downloads, with 12.4% downloading at least one from each category during the period. But the UK is catching up. We expect to see UK fintechs increase their share of app downloads at the expense of retail banks over the coming year, particularly as key challenger bank players like Monzo and Revolut apply for and achieve banking licences," added Christophe.
Source: Ogury