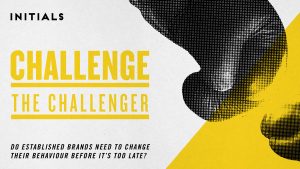 Launching November 28, new research conducted by independent creative agency Initials has found consumers are switching to challenger brands in their droves, with over two thirds of respondents saying being exposed to a multitude of marketing messages was making them less loyal to established brands. The findings expose five harsh truths established brands must tackle in the face of the challenger brand phenomenon.
Aiming to delve deeper into the dizzying climb of the challengers, the research surveyed over 1000 UK consumers, exploring how and why they are switching. Focusing on eight FMCG categories; food, soft drinks, alcohol, household products, healthcare, toiletries, beauty and grooming products, the research looked at everything from drivers at a category level to attitudes post purchase.
The first harsh truth is that challengers are impacting all categories. After food (57%), some two fifths (39%) of consumers say they have switched to a challenger brand in toiletries, followed by alcohol (35%) and beauty (34%). Household products (32%), healthcare (31%), soft drinks (29%) and grooming products (28%) complete the category list.
The second harsh truth is that across the board the switch to challengers is likely to be permanent, with 44% saying they intend to stick with the brand they've switched too. Of those that don't intend to stick, almost a third (30%) plan to try another challenger rather than revert to their original established brand. TV is viewed as the most effective channel for driving consideration of challenger brands, cited by 42% of respondents.
Thirdly, value for money still matters. Despite the premium often associated with challenger brands they are delivering against their promise, with exactly half of respondents saying challenger brands are seen to provide good value for money.
The research also found the more shoppers are invested in their purchase, the more probable it is that they'll find a reason to try a challenger – this is the fourth harsh truth and a concern for brands with higher consideration products. It's most significant for food purchases with well over a half (60%) of shoppers saying this.
The fifth, and perhaps most significant truth, is the emotional connection consumers feel towards challenger brands – people recognise and respond positively to the purpose and personality presented by challengers. This is particularly significant amongst younger consumers, those aged 16-34.
Jamie Matthews, CEO of Initials, comments: "These findings should act as a wakeup call to brands. The rules of the game have changed, with challengers disrupting every one of the FMCG categories we examined. To compete effectively established brands need to adopt more of a challenger mindset. Doing that requires bravery, and a much greater appetite for risk, but in order to succeed they need to match challenger's sense of ambition and conviction. Regardless of category there is a lot to be learned from how the challengers are doing things."
The findings feature in Initials whitepaper; Challenging the Challengers, designed to find out whether established brands need to start behaving differently.
Source: Initials