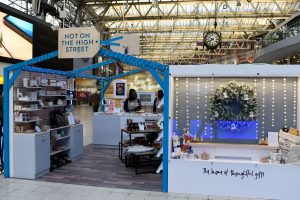 Notonthehighstreet, the home of thoughtful gifts, has today announced that it will be launching physical 'pop-ups' in two central London locations in the run up to Christmas 2018.
The curated online marketplace will be showcasing products from over 200 notonthehighstreet Partners (sellers) across the two pop-ups, which will run from 2nd – 22nd November 2018 at London's Waterloo Station, which is managed by Network Rail, on the main concourse, and from 3rd – 24th December 2018 at Westfield London (White City) in the North Atrium on the ground floor.
Both three-week pop-ups will provide shoppers with an opportunity to buy from a curated collection of unique and thoughtful gifts from the site's 2018 Christmas collection. This will include personalised Christmas Eve boxes and baubles, customisable jewellery and a selection of gifts from stocking fillers through to larger, limited edition and one-off, artisanal items.
Each of the two locations will also feature information about the Partners behind the gifts, to highlight the skilled craftsmanship of some of the UK's best small creative businesses who sell through notonthehighstreet. The Westfield pop-up will incorporate opportunities for live personalisation and ticketed experiential workshops so that shoppers hunting down the perfect Christmas gift for a loved-one will be able to co-create something special, with the help of selected notonthehighstreet Partners, while they shop.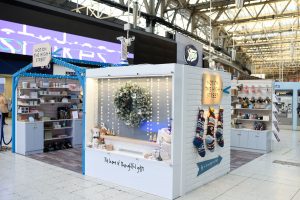 "Our pop-ups will be an opportunity for our customers to really get to know notonthehighstreet this Christmas," said Ella d'Amato, Chief Commercial and Marketing Officer at notonthehighstreet. "We are working with some of our most innovative Partners to develop carefully curated ranges of products for each location which showcase the best of the unique gifts that can be found on our marketplace this festive season. We hope it will help our customers to understand the work of the 5,000 creative small businesses that sell through notonthehighstreet by bringing their stories to life and demonstrating their passion for creativity in a way which it can be hard to appreciate when you're browsing online."
Notonthehighstreet is working with Initials on the design and build of the pop-up spaces.
Rachel Bateman, Head of Experiential at Initials says, "notonthehighstreet is such a distinctive brand, enhanced by its array of partners, so bringing it to life in the live environment needed careful consideration in every detail. We worked closely with the notonthehighstreet team to provide them with a retail space that truly represented their offering, whilst mindful of the physical space constraints and the crowded Christmas marketplace. We're delighted to be involved in the pop up experience and it's evolution at Westfield."
Further detail about the pop-up opening hours, locations and collections is available here.
Source: Initials