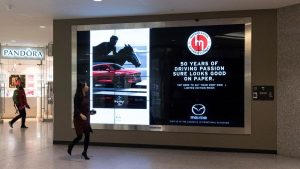 PATTISON Outdoor, Canada's leading Out-of-Home advertising company, along with its digital and interactive arm, Fourthwall, partnered with agency J. Walter Thompson and Mazda Canada to celebrate the automotive brand's 50th anniversary with their followers.
To commemorate the occasion, Mazda Canada is releasing a series of limited edition prints through a PATTISON Outdoor digital storefront designed exclusively for the event. This interactive digital campaign launched on Wednesday ahead of the Canadian International AutoShow, where the automotive brand is eligible to win two 'Car of the Year' awards from the Automobile Journalists Association of Canada (AJAC).
Located in the Royal Bank Plaza of Toronto's PATH, this four-week interactive stunt is a first for PATTISON Outdoor, Fourthwall and Mazda. A 93" x 165" large format screen plays full-motion video, depicting the illustrations of British automotive artist Guy Allen. Mazda's brand messaging directs fans to a payment terminal where they can tap-to-purchase a limited edition 18" x 24" print. Buyers are then issued receipts with a unique code and dedicated website url where they can input their mailing address to redeem their posters.
"Unattended payment solutions are rarely used in outdoor advertising campaigns—specifically solutions that are based on tap technology," says Dmitri Melamed, Vice President and General Manager of Fourthwall. "J. Walter Thompson's creative vision allowed our team yet again to execute an innovative and challenging project. We're honoured to have contributed to Mazda's milestone celebration in Canada."
"Mazda has such a rich, yet often overlooked, history in Canada and we felt it was important to share that history in a way that feels less like advertising," says Ari Elkouby, Vice President and Creative Director at J. Walter Thompson Canada. "The prints allow us to tell Mazda's incredible brand story in a way that feels more like art, which better encapsulates the feeling of Mazda's clubhouse philosophy."
Each week of the four-week campaign offers passersby the opportunity to collect a new illustration in the Guy Allen series for Mazda. This ad appears in a busy retail concourse of the Royal Bank Plaza in Toronto and is a part of a larger four-week out-of-home campaign in-market during the same time period.
Source: PATTISON Outdoor