The Real Kashmir Football Club (RKFC) is celebrating its entry to India's I-League – the biggest professional football league in the country – with the launch of a moving new film called #TheRealKashmir, created by Cheil WW India. The film is a continuation of RKFC's recent partnership with .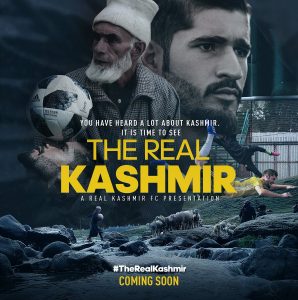 The ad is narrated by an elderly Kashmiri man who has seen the beauty of the valley taken over by the unrest and paranoia, and stars real residents of the region. Through his eyes we see how Jammu and Kashmir is changing yet again, but this time it's football that is bringing a positive transformation and bringing people together.
Woven in through the narrative is the tale of RKFC, from early training sessions and grassroots supporters to the decisive penalty taken by star player Danish in a packed stadium, which resulted in the team qualifying for the I-League.
At the end of the film we see that our narrator is, in fact, visually impaired – but that the winds of change are blowing so clearly in Kashmir that he can feel the positivity all around him. The soundtrack for the film is the beautiful Kashmiri folk song 'Neroo haa naujawano' , the lyrics of which urge us to strive hard in life and reach for the skies.
Shamim Meraj, Co-owner of Real Kashmir Football Club, said: "The film for us is inspirational and evocative. It sums up what we are. We are very thankful to locals of Jammu and Kashmir without whom we couldn't have put our inspirational story together. It's a great moment for a young club to produce something like this."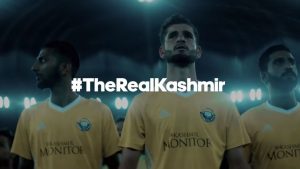 Sean Van Wyk, Senior Marketing Director at adidas India, said: "At adidas, we firmly believe that through sport, we have the power to change lives, and now we are getting to live and see it in India. adidas aims to redefine the 'Real' Kashmir through the lens of sports and become a proponent of positivity and changing lives in Jammu and Kashmir through football. Real Kashmir FC is the flag-bearer of positivity, and they epitomise our brand message 'Here To Create Change'."
Aneesh Jaisinghani, Executive Creative Director, Cheil WW India, said: "This is not merely a campaign but a very special initiative to drive a perception change, to stir the emotions of people of this country and drive collective optimism towards Jammu and Kashmir. We are very proud to partner with Real Kashmir FC and hope to make a difference in the lives of people."
The film, which is running on RKFC's Facebook and YouTube channels, is supported by photography exhibition in New Delhi that also shows Jammu & Kashmir in a new light.
Source:Â Cheil India