Saatchi & Saatchi Poland / Interactive Solutions in partnership with Saatchi & Saatchi Singapore, launched a unique Amnesty International campaign that allows people to support important causes via their Facebook, Twitter and email accounts in an unexpected, new way.
The Silent Protest app is activated when a mobile phone is turned to silent, using individuals email, Facebook and Twitter accounts to post messages of support to Amnesty International causes that give a voice to people around the world who have been unfairly silenced for their beliefs. The app is available on Android platform, with the iOS version to follow soon after.
Silent Protest is being promoted in places where turning your phone to silent is encouraged, like cinemas, hospitals and public transport.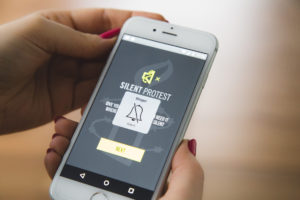 Simple and direct messages inform people that by switching their phone to silent, they can give volume to those who need it. A special cinema ad has been created to be shown before film screenings, inviting people to download the app and silence their phone in support: https://vimeo.com/164099837
Silent Protest is promoting important Amnesty International causes including:
Rafael Marque de Morais, an Angolan journalist and human rights defender convicted by the local court, exposing human rights violations and corruption in his country.
Khadija Ismayilova, Azerbaijani Journalist imprisoned on false charges for exposing corruption and human rights abuse.
Barrios Family from Venezuela, whose 10 family members have been murdered – allegedly by the police.
"It seems to be a universal truth that we all spend a great deal of time on our smartphones, going to a great deal of effort for our voices and opinions to be heard. Yet we also take this opportunity for granted. All over the world there are people who are silenced simply for voicing their beliefs. We wanted to create a new way to share their stories, using the simple-yet-powerful metaphor of turning your phone to silent," commented Saatchi & Saatchi creative team – Patrycja Lukjanow and Piotr Osiński.