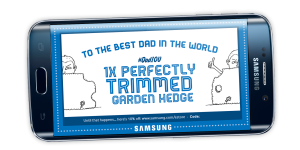 Samsung is helping people to show their appreciation for dads this Father's Day via a social media campaign, created by Cheil UK, called '#DadIOU'.
In the run-up to Father's Day, Samsung is asking its followers across its social media channels to tweet @SamsungUK a message to their dad with an IOU for the chance to have it turned into a personalised coupon.
Samsung will select tweets on a first come, first served basis and forward them to a dedicated team of illustrators who will craft and design a bespoke, illustrated IOU coupon. The personalised IOUs will then be tweeted back to the entrant as an image that can be printed and shared with their dad on Father's Day.
One lucky fan will also be picked to have their IOU supersized, with Samsung pledging to go the extra mile to give one lucky Father an unforgettable day. This could involve turning an IOU of mowing the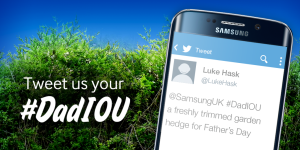 lawn to delivering a team of gardeners to spruce up the place, or supersizing a car wash into a full valet service. All pledges will be entered into a prize draw for the chance to win a Galaxy S6, Tab A or Samsung headphones with winners announced on Friday 19th June.
Every coupon will have a special discount code enabling the receiver to claim 10% off from the Samsung eStore.
The campaign will run across Samsung's Twitter account from 16th -19th June.