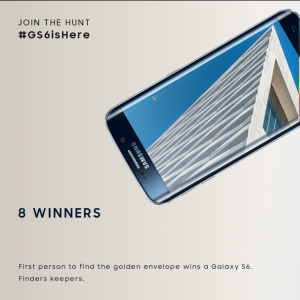 Samsung is set to host the UK's biggest Twitter treasure hunt with a digital and social stunt to support the launch of its Galaxy S6 handsets, developed with Cheil UK. The '#GS6IsHere' activity, which launches April 10 for one day only, aims to create a frenzy of noise and interaction around the new smartphones.
Samsung has hidden a ticket for a new Galaxy S6 handset in eight of the largest cities across the UK. Clues to their location will be provided via a live video stream broadcast on Samsung's Twitter channels. One location will broadcast at one time.
Consumers are invited to join in the hunt using the campaign hashtag, #GS6IsHere. Cryptic clues to the tickets locations will be seeded through Samsung's Twitter account. When consumers have found the hidden ticket at the location they simply shout out the secret password, which is provided as a final clue on the ticket, and a Samsung representative will appear with their prize. Consumers that work out where a prize is, but can't get to the location, can still get involved by tweeting their guess of the location. Consumers who guess correctly will be entered into an online prize draw for their own chance to win a coveted Galaxy S6 handset.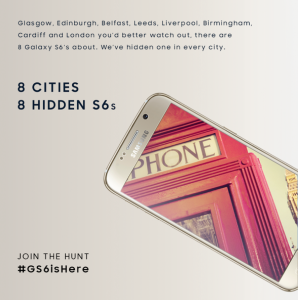 Every hour a new live video stream in the next city will be switched on, and the new hunt begins. Brand ambassadors will wait close-by ready to record the reactions of successful consumers, and to hand over their prize with content shared via social media.
Activity will be supported by OOH, including details of the treasure hunt appearing on the Samsung Piccadilly Circus screen, and press ads in Metro. Cheil UK is responsible for the campaign concept, creative and production. Media planning was handled by Starcom.
Cheil UK won the Galaxy S6 digital and social brief following a competitive pitch. The agencies were challenged to come up with a creative idea that would create 'fame' and 'frenzy' for the new handsets.
James Keady, head of digital, Samsung UK and Ireland, said: "The new Galaxy S6 is one of the most important launches of the year, not just for Samsung, but across the smartphone market too. We want to make sure it lands with a bang. Working with Cheil UK, Samsung's social presence will play a key role in a digital campaign that aims to capture the imagination and desire of our customers.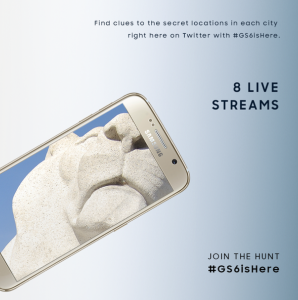 Matt Pye, COO, at Cheil UK, commented: "Delivering the Galaxy S6 digital and social activation has been a great experience for all involved, pulling on the agency's integrated capabilities. The pitch to win the work was a challenging one against two particularly strong agencies, but as this news suggests, our creative digital talent shone through and won us the brief."
Jon Buckley, head of social at Cheil UK, added: "Following our appointment to handle Samsung's UK social channels we have been focused on taking a new tactical direction and for the Galaxy S6 we wanted to take it a step further and incorporate more interactivity and innovation into social."
"The social treasure hunt this Friday 10th April has been designed to inject some fun into the communications around the new Galaxy S6 handsets, and to create a talking point for Samsung and its customers."