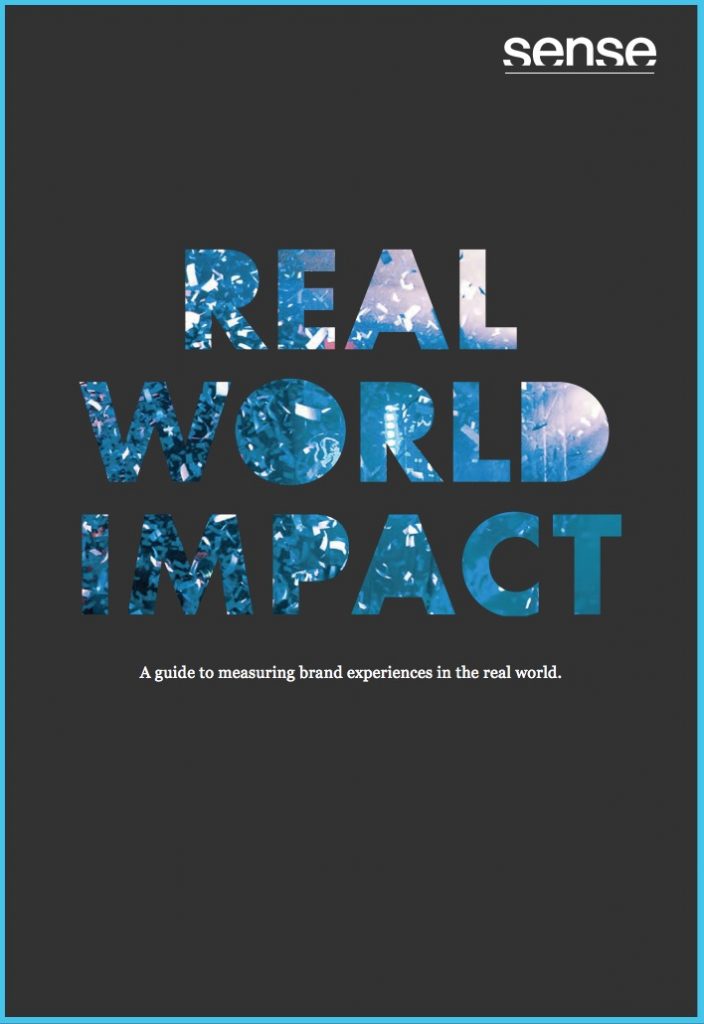 Award-winning global brand experience agency Sense has launched an updated guide to experiential measurement called Real World Impact, 10 years on from the release of its original one in 2008.
Many brands and agencies still struggle to measure experiential. Sense's book outlines how experiential marketing CAN be successfully measured and it shares learnings and updated techniques from 10 years of applying the agency's measurement technique, 'EMR' – Experiential Measurement and Research.
"Experiential measurement techniques are evolving, and since our first guide in 2008, measuring over 80 campaigns has developed our expertise and learnings, which has allowed us to refine our approach even further," explained Sense MD Nick Adams.
Experiential marketing has been growing in popularity over recent years, both in the UK and globally. Second only to online marketing, investment by brands in experiential has increased year-on-year in the UK for several years in succession, according to the quarterly IPA Bellwether report. What's more, a global study by Freeman in 2017 revealed that half of chief marketers plan to spend at least a fifth of their budget on experiential in the near future, compared to less than a third who did so when the research was undertaken.
Calls have been made to develop a standard experiential marketing measurement tool, but Adams, whose agency assesses the success of every one of its campaigns, believes this is the wrong approach. "If someone ever tells you they have a formula or 'automated model' figured out for measuring experiential, be sceptical. Scrutinise it closely, for while you can apply such things to other forms of marketing, brand experiences are much harder to pin down," he said.
Brand Meets World advocates measuring each campaign individually against a set of criteria relating to the original objectives of the activity. It sets out in detail the key steps that need to be taken, including understanding the campaign, establishing performance measures, and gathering and analysing key data. The process forms part of Sense's proprietary EMR service, which has been developed and refined over the past decade.
"We're lifting the lid on EMR for the first time because we think it's important that marketers realise that experiential can be measured effectively if approached in the right way," said Adams. "This is vital to the success of future campaigns as well as for the continuing development of the discipline."
Source: Sense