Popular French online shoe brand Sarenza have launched a new digital campaign conceived by Serviceplan France to introduce the 'Boots 2018' collection.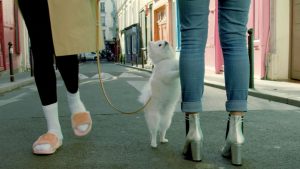 The Sarenza 'Boots 2018' digital campaign is based around two films (15 "& 20") which unravel the mystery about what makes dogs pull frantically on their leads, or pounce on passers-by in the street.
There can only be one explanation, that the unfashionable shoes of their owners are harming their image. Sarenza, one of the most popular brand amongst  French shoe-lovers, suggests trying out its new collection of boots so that dogs can once more feel proud alongside their owners.
The new campaign is the 9th digital activation since Sarenza awarded the account to Serviceplan France a year ago. The films were directed by Manu Cuesta, and produced by Trinity Films (Serviceplan France), with creative direction from Fabien Teichner & Dimitri Guerassimov, Joint CCO's and Partners of Serviceplan France, and the digital creative director was Mathieu Membré.
Source: Serviceplan