SodaStream, a leading sparkling water brand, has celebrated Pride Month by unveiling its latest video campaign, tweaking classic portraits from the past to celebrate the LGBTQ community.
Photographs endure the test of time, which is why SodaStream decided to revisit classical moments through an LGBTQ perspective. From miners proudly posing in their rough-work attire and a beautiful transgender bride to a same-sex couple, this campaign is meant to share the message that no one should ever have to hide who they truly are.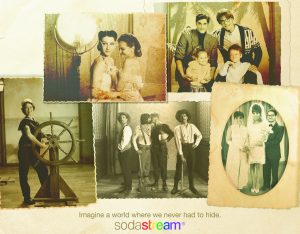 The bride featured in the video is Lila Blilat, a transgender woman whose personal journey is close to SodaStream's heart. Lila's journey has been truly inspiring – and resonates with many other members of the LGBTQ community across the world.
Commenting on her role in the video, Lila said: "It's a dream come true for me to be chosen as the picture-perfect bride in a global campaign. It gives me strength to continue the fight to be myself and to help others do the same. I truly believe this video helps share the love."
"At SodaStream, we stand for people, no matter their origin, religion, gender or sexual preferences," said SodaStream CMO Matti Yahav. "We're well-known for our fun and lighthearted way to convey important messages in our campaigns but this time we wanted to strike another cord with a poignant and emotional campaign that anyone can – and should – relate to."
Source: SodaStream