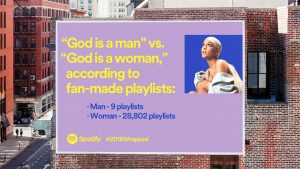 Spotify have launched their year end 'Wrapped' marketing campaign. Launching November 28, the campaign will be live across OOH, digital and social in markets worldwide including Australia, Brazil, Canada, Colombia, Denmark, France, Germany, Indonesia, Mexico, Philippines, UK and US.
And as its users have come to love and anticipate, they're using playful creative to offer a moment of reflection about the role that music and Spotify play in their lives and in culture, while telling universal stories that create a sense of community.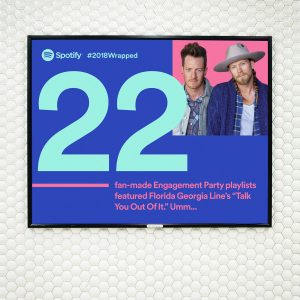 Fun fact: Over 50 artists, like Ariana Grande, Post Malone and Shakira with Maluma, will be featured in the campaign and will represent each market's most popular musicians.
Since its inception in 2016, Wrapped has underscored the impact of OOH and how digital brands are embracing the medium more than ever before.
"Our annual Wrapped ad campaign is a true embodiment of our proposition as a 'platform for discovery.' Our users have come to expect the year-end wrapped campaign year after year, and are eager to see how their interactions on Spotify connect to what is happening across the global Spotify community," said June Sauvaget, Spotify's Global Head of Consumer Marketing. "At the same time, it serves as a large-scale 'thank you' to our listeners for their collective impact in shaping the platform throughout the year while further solidifying our place in the global cultural lexicon."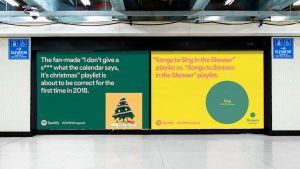 This year's campaign goes beyond showcasing music listening behaviour and will highlight the podcasts that have captured its users' ears in 2018. Highlights from the creative include:
"My Favourite Murder" was the favourite podcast of 327,676 people on Spotify this year. Careful, one of them might be behind you.
22 fan-made Engagement Party playlists featured Florida Georgia Line's 'Talk You Out Of It.' Umm…
3,754 Laurel playlists created vs. 1,059 Yanny playlists created
The fan-made "I don't give a s*** what the calendar says, it's Christmas" playlist is about to be correct for the first time in 2018.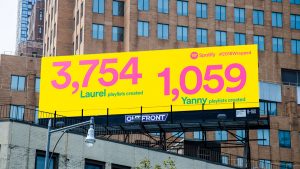 "Part of our creative process is to think about the cultural moments, tensions and oddities that defined 2018 and then see how music and podcasts helped people respond," said Alex Bodman, Global Executive Creative Director at Spotify. "That's why this year we decided to focus on Playlist creation; it's one of our features that allows people to get highly creative. The fact that users give the playlists such hilarious names or use them to comment on broader cultural trends, only makes the material richer."
Source: Spotify