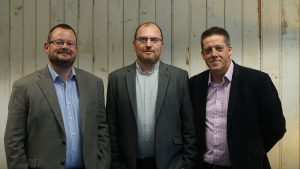 Customer engagement agency STACK has announced the appointment of Merkle's Andy O'Brien and Ian Skinner to expand its management team. O'Brien will join as Head of Data Planning and Skinner will become Head of Data Science. Both will work across strategic clients and report to Chief Data Officer Mark King, who joined in March as part of STACK's ongoing drive to deliver data-driven transformation at scale.
Appointed to lead STACK's Data Planning function, Andy O'Brien's experience spans major agencies including RAPP and DDB, where he was Client Service Director. With specialist expertise in automotive, finance and retail, O'Brien earned his stripes translating complex challenges into digestible, demonstrable strategies. His varied background traversing Customer Experience, Technology, Media and Creative, plays into STACK's channel-agnostic, customer-centric approach.
As one of the UK's leading Data Scientists, Ian Skinner will be tasked with developing STACK's Data Science capability. He'll be working closely with agency leads and clients, generating insights which create what he calls "unfair advantages". Ian brings with him a wealth of data, tech, consultative and delivery experience, and was the architect behind Renault's award-winning connected data strategy. Prior to his role as Head of Data Science at Merkle, Ian was Head of Business Intelligence at MRM Worldwide.
Mark King, Chief Data Officer at STACK, said: "Following an extraordinary year of growth, we are reinforcing our analytical capabilities for today's omnichannel, customer-centric world. Andy and Ian have worked with the most desirable customer experience brands around, and bring with them world-class expertise in customer-driven strategies and connected journeys. They've developed Customer Data Platforms from scratch and advised media agencies on how to sharpen the prospecting powers of the DMP. Suffice to say that STACK cannot wait for the two of them to get started."
Source: MSQ Partners