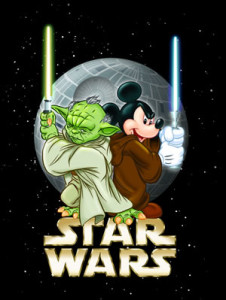 The reboot of Star Wars has propelled Disney into top spot of the world's most powerful brands league table.
Disney beat Lego and L'Oreal to second and third place respectively due to the box office success of the new Star Wars film, according to strategy consultancy Brand Finance.
Star Wars Episode VII 'The Force Awakens' is the first film to be released since Disney acquired the franchise and based on its total box office gross of almost $2bn it is Disney's most successful film. Star Wars toys have generated an additional $700m for Disney.
Brand Finance evaluates the world's most powerful brands based on factors including familiarity, loyalty, promotion, marketing investment, staff satisfaction and corporate reputation.
Lego was ranked as the most powerful brand in last year's table, but was knocked off the top spot by a series of controversies that have damaged its wholesome image.

It was fined by German regulators for attempting to prevent retailers from discounting its products and was accused of colluding in censorship by attempting to prevent Chinese artist Ai Wei Wei from using Lego in his work.
Brand Finance also puts together a league table of the most valuable brands. Apple came out on top of this table as its value increased 14% thanks to the success of the iPhone 6.