Staysure, the UK's No.1 brand for over 50s travel insurance, has launched its new TV ad campaign after appointing Founded as its lead creative agency to help reposition the brand.
The specialist insurance company, launched in 2004, caters to the growing number of over 50s with pre-existing medical conditions. The TV ad, created by Founded and directed by Joanna Bailey, features well-loved Scottish actor Robert Cavanah, known for his dapperly dressed characters in TV dramas like ITV's The Royal.
Shot in Rome and in a filmic style, the ad shows the actor having a beautiful bespoke suit made for him. It captures the artistry and skill that goes into creating a bespoke made to measure suit. With real tailors cast for a thoroughly authentic depiction, it is a celebration of the personalised experience, and echoes Staysure's own distinctly 'tailor made' customer proposition.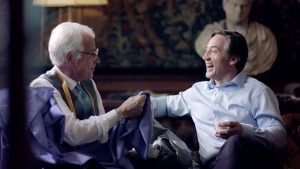 The TV ad is part of an integrated campaign to strengthen the brand's leadership position, and in order to deepen trust following research which concluded that consumers remain largely untrusting of the insurance category. Campaign activations include web, print, direct mail and social.
Featuring the line, 'worth doing right', the campaign underscores Staysure's approach to tailor-making each and every policy to the individual customer to get it just right.
Brad May, Chief Marketing Officer at Staysure commented: "We wanted to refresh the brand in a way that reflected our market leading position. At Staysure we believe in doing the right thing for our customers so the campaign fit was perfect. It's been a great opportunity for us to reinvigorate our message and show the importance we place on understanding people as individuals."
"We're working with Staysure to unearth and express its core founding ethos of taking the time and attention to give every customer the policy that is exactly tailored to their personal medical conditions. We know the 50+ audience want brands to stop 'caricaturing' them and ditch the age-based stereotypes so this thinking was also infused in our approach and reflected in casting," added Damian McGee, Managing Partner at Founded.
Source: Founded