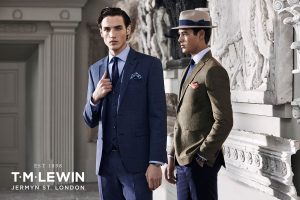 T.M.Lewin, the expert shirt maker and tailor, has formed a partnership with email marketing pioneers Kickdynamic to drive engagement and improve the customer experience.
Founded over one hundred years ago on the world-famous Jermyn Street, London, T.M.Lewin has since gone on to open dozens of stores worldwide, including Europe, Singapore and Australia. Using many of the same traditional manufacturing techniques as they were founded on, the T.M.Lewin brand is synonymous with excellent craftsmanship, quality, service and value.
The major UK retailer has now enlisted the help of London marketing tech firm Kickdynamic, who specialise in email personalisation and automation, to ensure its customer communications are as refined as their tailoring.
Kickdynamic, who use open time technology to generate compelling and up-to-date email content in real-time, is already trusted by dozens of the world's leading retail and fashion brands including Ted Baker, ASOS, New Look and Staples.
The new partnership will see Kickdynamic enable T.M.Lewin to communicate with each of their customers in a highly personalised, relevant way, while also reducing build time for content in emails.
Richard Jones, Head of CRM at T.M.Lewin, said: "We've been expertly tailoring our customers for over 120 years so it's only right we tailor their communications in the same manner. That's why we chose to partner with Kickdynamic with their excellent track record for delivering personalised, relevant campaigns which have genuine impact. We're excited to see their platform in action."
Matt Hayes, Co-Founder and CEO of Kickdynamic, said: "Working in partnership with an iconic brand like TM Lewin is very exciting. Everyone at Kickdynamic is looking forward to working with them to bring the very best email experience to each of their customers through truly personalised campaigns."
Source: Kickdynamic