Y&R London has launched a new strategic direction and creative campaign for the Department for Transport's THINK! drink drive activity which calls on mates to look after each other on a night out. The creative, breaking March 13, targets young men aged 17-24 with the line, "A Mate Doesn't Let A Mate Drink Drive."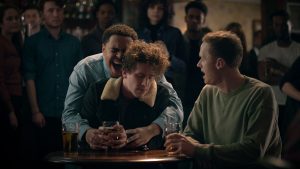 "Whilst previous UK road safety campaigns have traditionally focused on the dire consequences of drink driving, the prevailing 'it won't happen to me' attitude of this particular young male audience has meant such tactics have had increasingly less impact over recent years," Emily James, Y&R chief strategy officer, said. "This new strategy, rooted in behavioural psychology, eschews the conventional parent-child vernacular of traditional drink drive campaigns and instead draws on peer dynamics to police and influence the friendship group."
The new creative work aims to give friends, who often feel too awkward to intervene, the ways and means to stop mates from drink driving. Taking comic inspiration from the notorious pottery scene in the film Ghost, the campaign replaces Patrick Swayze and Demi Moore with Sean and Josh, a pair of ordinary young men on a night out.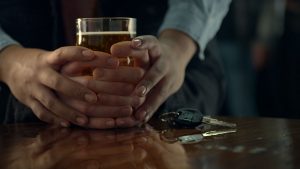 Drawing on the genuine affection that exists between male friends and delivered in the cringe-inducing style of banter and humour they all enjoy, the campaign shows young men how to intervene with a drink-driving mate by grabbing him from behind, clasping his pint in both hands and singing the lyrics to 'Unchained Melody' into his ear before taking his drink away from him.
The creative, produced by Y&R London and directed by Jim Bolton, will feature a 60 second social film on Instagram, Facebook, Snapchat and Twitter and a 30 second VOD airing March 12th.
Jon Burley, chief creative officer, Y&R, said: "Humour can be just as powerful an emotional trigger as shock and melodrama. Young men have been told over and over again in a myriad of hard-hitting campaigns that drink driving can have fatal consequences, but with thousands of injuries and hundreds of deaths on the roads every year, we had to try something that resisted the default behaviours of the category."
Source: Y&R London