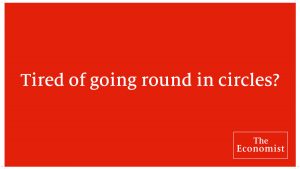 On January 29, whilst the British Parliament once again votes on the government's Brexit deal, The Economist, a leading source of analysis on international business and world affairs, will take to Westminster's most famous roundabout in a van displaying the message: 'Tired of going round in circles?'
The side of the vehicle hosts the question on a digital outdoor poster and will drive laps of Parliament Square from 8am until the voting concludes this evening.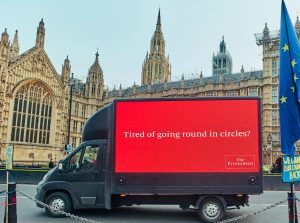 On the back of the van, the URL points to The Economist article 'Theresa May has lost control of Brexit. Parliament must take over'. The creative goes on to encourage passersby to send a text message to receive a free copy of The Economist, and ultimately a full subscription offer.

"Today the eyes of the world will once again be on Parliament Square and so there is no better place to remind our globally curious audience that, whilst the government may take us round in circles, The Economist is a trusted filter to help prepare for and navigate exactly this kind of uncertainty," said Mark Cripps, Chief Marketing Officer at The Economist.
The execution was created by agency AMV BBDO.
Source: The Economist