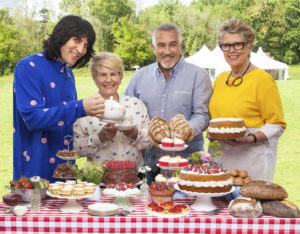 One of the UK's favourite innuendo-fuelled cookery programme, The Great British Bake Off (aka GBBO) returns to the TV screens on August 29 –  nearly a year after it was confirmed the programme would be passed into the hands of Channel 4.
While many are dubious about the change of networks, fans haven't lost interest, with the eagerly-awaited contestant line-up being revealed earlier this week.
Each year the programme features a mix of personalities who always seem to provide moments of comedy gold. These contestants – provided they have avoided soggy bottoms –  will have brands eating out of the palm of their hands once the show comes to an end, as, watched by millions, they will almost instantly become popular choices for brand collaborations, publishing opportunities and much more…
Expert on influencers, Senior Manager at Influencer Matchmaker – an agency that pairs high-profile brands with some of the top influencers in the industry – Amelia Neate commented, highlighting the difference between a celebrity and an influencer, she said:
"The critical difference between a celebrity and an influencer is the route they took to gain their social standing. A celebrity will likely have built up their profile through traditional channels such as television or magazines, while influencers have self-built their status through harnessing the power of social media. Although, in terms of the GBBO contestants I can certainly understand the debate because, like influencers, they have the expertise in a certain topic which is baking, but unlike influencers their fame will have begun through being part of a popular TV show and being featured in print media."
So, it may be easy to assume that they will be officially labelled as 'celebrities', but as their social media following increases, and it will, the lines will become even more blurred with the celebrity and social media influencer debate set to continue.
Three most followed former GBBO contestants:
Selasi Gbormittah (2016) – Instagram: +113k
Candice Brown (2016) –  Instagram: +157k
Nadiya Hussain (2015) –  Instagram: +81.6k
Source: Influencer Matchmaker