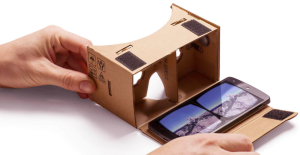 The New York Times will distribute Google Cardboard virtual reality (VR) viewers to its home-delivery newspaper customers in the U.S. as part of a new campaign.
The media giant has partnered with Google for the initiative, and will deliver more than one million of the units to readers' homes over the weekend of November 7-8. Some digital subscribers, as well as Time Insider readers, will also be given promo codes to receive a free Google Cardboard viewer, (which can cost around $25 for the basic models).
For the uninitiated, Google Cardboard is a simple fold-out contraption that you can slip your smartphone inside, enabling you to use it as a VR screen. Google Cardboard is compatible with a number of third-party apps, letting you experience virtual reality in your own home without laying down a ton of cash for the privilege.
The first NYT VR film is called "The Displaced," and it "captures the resilience of three extraordinary children uprooted by war, all through the lens of virtual reality," according to a press release issued by the NYT.
To accompany the Google Cardboard viewer, the NYT has also developed the NYT VR app, for Android and iOS, in collaboration with virtual reality studio IM360. The app will be available the week beginning November 5.
The first series of VR films will also feature a behind-the-scenes skit that delves into the making of the publisher's Walking New York cover image from last year. A third title will land before the end of the year, with more in the works for 2016.
For those without a Google Cardboard viewer, the NYT VR app will also offer "an enhanced video experience that opens a window into the virtual reality environment," and versions of the films will be made available online in good ol' fashioned 2D.