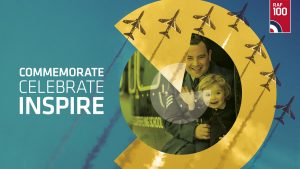 The Royal Air Force (RAF), together with RAF charities, have joined forces for the first time to launch RAF100 – the centenary campaign that jointly commemorates the past 100 years of service, and looks forward with confidence and excitement to the future.
To mark the anniversary, award-winning branding consultancy Coley Porter Bell has created a bespoke visual identity which will be featured across all brand touchpoints; from the website and merchandise, to special commemorative UK events and RAF bases across the world. The campaign will run from April 1st until late September 2018.
Tasked with creating a visual identity that appeals to veterans and school children alike, Coley Porter Bell worked collaboratively with the RAF team using their proprietary Visual Planning methodology. This approach applied practical learnings from neuroscience combined with design flair to create a distinctive identity that captures the confidence, vibrancy and spirit of the RAF.
Inspiration was taken from the iconic RAF Roundel to create a dynamic identity that comes straight from the RAF's most recognisable asset. Photography was used to bring to life the past, present and future; instilling pride whilst also capturing the RAF's sense of innovation.
Air Commodore Nigel Bradshaw, Head of Media & Communications at The Royal Air Force added: "Coley Porter Bell instantly got to the core of what the RAF stands for. Not only have they managed to encapsulate the past 100 years in this campaign, but they have brought to life the innovative and exciting essence of the Royal Air Force. This is a momentous year for us and I am confident that this fresh, new campaign identity will ensure that we commemorate our past, celebrate who we are and what we do today, and inspire the next generation."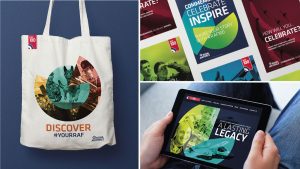 Vicky Bullen, CEO at Coley Porter Bell commented: "We were delighted and very proud to work with the RAF to develop a campaign to celebrate their 100th anniversary. The RAF has, of course, played a key role in this country's past, however what excited us was its vision for and role in the future. We hope our campaign helps people to understand the innovative and exciting nature of the work they do as it heads into its next one hundred years."
The centenary on April 1st 2018 will be marked by special events, activities and other initiatives at local, regional and national levels running from April to the end of November 2018.
The centrepiece of RAF100 will take place on 10th July, with a centenary service in Westminster Abbey, followed by a parade in The Mall and spectacular flypast over Buckingham Palace.
Key events include the Centenary Gala concert at the Royal Albert Hall on 31 March, information on buying tickets can be found here. Details of all other RAF100 events can be found on the RAF100 website.
Source: Coley Porter Bell