After a long strategic exercise to unearth Axis Mutual Fund's core, The Womb launched a campaign that aims to position the fund house as 'the responsible mutual fund'.
It broke with a massive internal program, extends thru' TV and outdoor, and will culminate with a sustained distributor campaign.
Commenting on the new campaign, Rohan Padhye – VP Marketing – Axis Mutual Fund, said, "The mutual fund industry is growing at a rapid pace, and as a business we are seeing healthy growth. While AMFI (Association of Mutual Funds in India) is doing a stellar job in creating awareness and relevance for our category, our task at Axis MF is to build preference and consideration for the brand."
"Responsibility plank is competitively distinctive, relevant to the consumer and true to us given the way we have been managing money. The Womb displayed not just an ability to do cut-through creative work, but also some fairly incisive strategic thinking. Their teams worked with ours, and our distributors, and investors with a single-minded objective – to bring out our core. And what you see is the result of that," continued Rohan.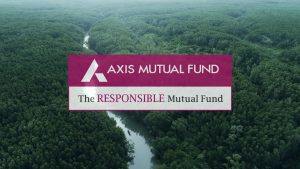 Navin Talreja – Founder – The Womb, stated, "This was one of the more complex ones to pull off. When you have a large organisation with many valid points of view, and more than one right way to go forward, you need skill, patience and integrity to get alignment. We are proud that the entire top management team rallied behind this thought. And while it looks simple, everyone's aware that this thought will put every Axis Mutual professional under the spotlight. It is an attitudinal and behavioural commitment that that brand is now making to the wider world. It puts pressure, but a good kind of pressure."
"Mutual fund penetration in India is still in low single-digit. As a savings oriented culture, our trust in traditional instruments remains high. Our research revealed that the quintessentially cautious Indian investor still equates mutual funds primarily with the stock markets. Which means he associates mutual funds with good returns, but also, high risk," Kawal Shoor – Founder – The Womb had this to say on the campaign.
"Not surprisingly, 'mutual fund investments are subject to market risk…' is the most famous tagline of the category. In this environment, another fund house talking about returns would not really set it apart ; but a fund house that talks about responsible risk management will. In a nutshell that was the thinking that led us to this positioning, which incidentally rang true for every stakeholder and customer of Axis Mutual Fund."
Suyash Khabya – Creative Partner, The Womb, added, "We always try and get away from the category codes of communication, and it's no different in our new work for Axis Mutual Fund. Using the jungle as a metaphor for the stock market,  we've strung together a series of mini-metaphors…its  beauty as the returns, the drops and the slips as the tiger, and of Bejoyda as the brand… who lets people enjoy without letting them ever feel they are in any sort of danger. For us that is responsibility."
Source: The Womb