H4B Manchester shows its talent for combining health and well being with consumer insights by creating a campaign for Kitbag.com spoofing the brutal conditions rugby players train in, ahead of this year's Rugby World Cup.
The campaign encourages supporters to get up, get moving and earn their team's shirts to show their support during the Rugby World Cup. It follows 'ordinary' Marty, Gareth, Barry, Wendall and Nigel as they push themselves to extremes to earn their shirts. The adverts, available on YouTube, have racked up more than 80,000 views and have seen in rugby merchandise sales rocket.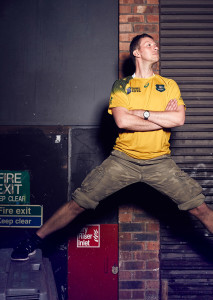 The 'Earn Your Shirt' series was shot by comedy director and actor, Kyle Shepard of Dafty TV, and comprises 8 videos, posters, emails and social media. Narration from rugby veteran, Brian Moore, whose 64 caps for England, and participation in two British and Irish Lions tours, five tests and the series in Australia in 1989, adds leverage to the entertaining videos.
The campaign offers a sneak peek at what's to come from the agency under creative direction from Chief Creative Officer, Tom Richards. Tom said: "It's great to expand our creative reaches to more mainstream brands, while maintaining our focus on health and well being."
As well as promoting the importance of sport in our well being, the campaign takes Kitbag.com, primarily known for football merchandise, into the world of rugby fans.
Tom Dell, of Kitbag.com said: "H4B definitely earned their shirt, delivering a robust integrated campaign, built on real rugby insights and using clever humour to connect to our new audience."
Featuring five local comedians, the campaign will bring a smile to your face. What are you going to do to earn your shirt?