Toyota and The&Partnership launched an integrated, multi-channel, multi-market campaign for the new Corolla Hybrid on Sunday 10th February. Airing first in the UK, to be rolled out across Europe, the TVC created by Rogue/Carnage directors Sam Brown and Mark Jenkinson demonstrates how the Corolla's new 2.0 Hybrid Powertrain makes it the no compromise choice of today.
Throughout history, every significant automotive innovation has had its moment in the spotlight, only to be overtaken by the next innovation and design that meets that current zeitgeist. Today, greater awareness of environmental issues prompted stricter emissions regulations, particularly in Europe.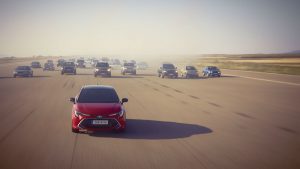 Toyota's self-charging hybrid electric powertrains offer exceptionally low emissions and high fuel efficiency and are able to complete half the average European commuter journey with no emissions at all. The Toyota Corolla Hybrid is the no compromise choice of today's society, replacing traditional diesel and petrol cars with their fuel-efficient and stylishly designed offering.

Developed to launch the Corolla in Europe and to reinforce Toyota's leadership in Hybrid technology, this big budget campaign will sit across all channels: digital, social, OOH, print, TVC and has been constructed with data at its heart; using a responsive targeting strategy powered by [M]Platform that allows the targeting of cohorts of conquest audiences with personalised messaging based on individual needs and car features.
Andrea Carlucci, Marketing Director, at Toyota Motor Europe said: "Corolla Hybrid is genuinely fun to drive; delivering the perfect combination of comfort, cornering ability and fuel efficiency. Move Ahead; The campaign that we've created with The&Partnership captures this. It's testament to our work with the agency to date and marks a truly transformative moment for our brand and the automotive industry."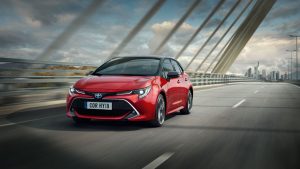 Shot over five days in Teruel, Spain on a Sony Venice digital cinema camera, the 60' film takes us on a path of automobile history featuring iconic cars from each decade; starting with pre-war open tops, to iconic 1930's gangster cars complete with machine gun tooting hoodlums, 1950's Hot Rods filled with greasers, an 1980's yuppie sports car, a range of 00's Diesel cars and a slow-to-be-charged electric car.
Combining the humourous visual tone of Rogue's Sam Brown and the sophisticated experience of Mark Jenkinson, these two multi award-winning directors come together to create a visually stunning and beautifully crafted film that powerfully puts its point across, whilst emotionally, through humour, inspires the audience to connect with the Corolla.

The commercial encourages consumers to question their automotive choices and ask them "As the world moves forward, what will your choice be?" before positioning the Toyota Corolla Hybrid as the car that will enable them to "Move Ahead".

Phil Beaumont, Creative Director at The&Partnership said: "From Horse to Hybrid this is a simple story of progression. The car market is evolving, leaving buyers confused. This creative aims to bring clarity. Positioning Toyota's next-generation hybrid engines ahead of the pack, as today's only, truly viable, progressive choice."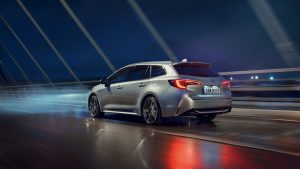 Rogue/Carnage Director, Sam Brown said: "From the moment we read the script, we were excited about the ambition and challenges it posed. It was such a pleasure bringing this to life, and teaming up with Mark on the project was fantastic. We hope the unadulterated fun of making it comes across in the finished film."
The Mill led all post-production, Final Cut's Amanda James edited, Munzie at Grand Central Sound Studio provided sound engineering and The Elements Music arranged.
Commenting on the post-production Peter Hodsman, Lead Artist, The Mill said: "To complete the dreamlike look of a never-ending expanse of road, Mark's signature sweeping Russian arm moves were flown over three kilometres of Teruel's finest runway, skid marks and all. There were multi-take car plates for the ensemble shots to composite, airport markings to remove and road markings to restore. To add to the atmospheric environment we simulated extra smoke passes in Nuke. We end the spot driving into the sunset, over the iconic Nelson Mandela bridge on the outskirts of Barcelona and towards the city we generated for the finale."
The commercial launches on ITV at 3pm on Sunday 10th February, during the ad break of the Six Nations England v France rugby match. The choice of track, Benny Goodmans 'Sing Sing Sing' was recorded at Studio 2, Abbey Road where The Beatles, Pink Floyd and Oasis recorded the majority of their songs.
Source: The&Partnership