Independent behaviour change agency, 23red, has worked with sustainability experts WRAP, to develop and launch Stand Up For Food month; – a dedicated month of action within the Guardians of Grub campaign to help reduce the amount of food wasted within the UK hospitality sector.
Throughout September, the UK's busiest bars, pubs, restaurants, hotels, cafes, and catering companies will be encouraged to 'Target, Measure and Act' on food waste. 23red has helped pioneer the strategy behind Stand Up For Food month, which included identifying the audiences that needed to be reached to mobilise behaviour change, designing key messages, and create the tools needed to deliver those messages.
The UK Hospitality and Food Service industry (HaFS) throws away one million tonnes of food per year. The Stand Up For Food campaign aims to combat this by aiding behavioural change at scale. It is encouraging the sector to measure food waste to find out where and why it occurs, so that simple prevention tactics can be introduced.
Now underway, the initiative is supported by the Government's Food Surplus & Waste Champion, Ben Elliot, and well-known chefs including Hugh Fearnley-Whittingstall, Skye Gyngell, Adam Handling, Ken Hom, Melissa Hemsley, Thomasina Miers, and major trade bodies.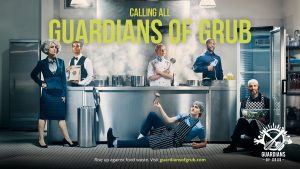 The strategy includes a full media and communications toolkit, designed and created by 23red, which has been launched to coincide with Stand Up For Food month. WRAP has worked directly with leading hospitality businesses to introduce the resources; including Apetito, Bartlett Mitchell, BaxterStorey, Bidfood, Castell Howell, Casual Dining Group, Compass Group UK & Ireland, Deliveroo, Greene King, Lexington Catering, OCS, Olympia London, Pizza Hut Restaurants, and Unilever Food Solutions.
The behavioural change-based strategy targets distinct audiences to help raise awareness and achieve this goal:
Those who own or are employed by a business that serves food: to lead from a senior management position and direct behaviour change internally.
Sector bodies and industry influencers, including: the British Beer and Pub Association, British Institute of Innkeeping, British Water, the Institute of Hospitality, the Royal Academy of Culinary Arts, the Sustainable Restaurant Association, and Too Good To Go.
Ambassadors, such as Ben Elliot, government Food Waste Champion and Co-Founder of the Quintessentially Group.
The toolkit is available to download from here. It contains posters, social posts, and email signatures, as well as Guardians of Grub branded food waste measurement tools and data submission guidance for use in kitchens.
Eleanor Morris, Specialist Advisor, Hospitality and Food Service at WRAP, said: "The sector throws one million tonnes of food away every year costing a staggering £2.9 billion to our industry. 75% of food waste last year could have been eaten. Given the wider environmental issues the world is facing today, it is crucial not just from a financial perspective, but for global environmental health that we do everything we can to prevent waste. We need to get the industry onside to do this and achieve our 2025 target."
Sadie Westwood, Business Director at 23red, said: "Many sectors are waking up to the things they can do to help reduce waste and protect the planet. Our aim with The Guardians of Grub campaign is to ensure awareness is high within the industry and to provide clear and simple instructions that can be followed easily, giving it the best chance to create long lasting behaviour change and work towards WRAP's Courtauld Commitment 2025 target."
Source: 23red