The Dutch phrase 'Als het te mooi lijkt om waar te zijn…' (If it seems too good to be true…) is the key to a new, campaign from travel deals brand Secret Escapes that launches on June 28.
The first spot shows a couple relaxing in their swanky hotel room, before becoming suspicious that the deal they are enjoying is too good.
Created by J. Walter Thompson Amsterdam, the idea responds to the insight that Dutch people combine insatiable desire for value with a healthy suspicion of brands promising great deals.
"Instead of trying to fight this, we decided to have fun with it. Secret Escapes is a witty and stylish brand offering amazing discounts, so we were confident it could carry it off," said Bas Korsten, Creative Partner, J.Walter Thompson Amsterdam.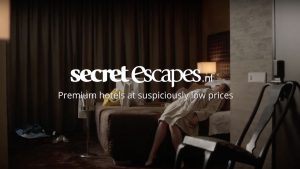 "Disrupting market conventions is the key to helping Dutch travellers get more holiday for their money. We are proud to be rising to the challenge of giving the Dutch the value they want in a fresh and distinctive way," added Rebecca Allen, Head of Market, Secret Escapes the Netherlands.
Credits:
Brand: Secret Escapes
Client: Rebecca Allen, Stephanie Trivass, Martin Kurkowski
Agency: J. Walter Thompson Amsterdam
Creative Partner: Bas Korsten
Creative Director: Michael Jansen, Friso Ludenhoff
Deputy MD: Alewijn Dekker
Agency Producer: Martijn van Hees
Director: Tim Oliehoek
Production Company: 25fps
Source:Â J. Walter Thompson Amsterdam