Troy-Bilt and its agency of record, Marcus Thomas, launched a new campaign titled "Ask Troy," which demonstrates the brand's commitment to solving problems for homeowners and adding value throughout their journey in the yard.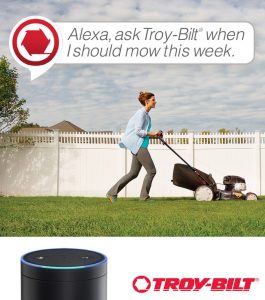 The campaign includes weather-triggered digital ads on Weather.com developed through a partnership with IBM/Watson, and the "Ask Troy-Bilt" Alexa skill on Amazon Echo created by Marcus Thomas.
The skill synchronises with consumers' personal calendars and real-time weather information. It also features an "Ask Troy" chatbot, as well as content distributed across YouTube, owned email, paid social placements and influencer collaborations.
The goal of the campaign is to break through the monotony of the category and differentiate Troy-Bilt from competitors. It targets young homeowners who could use a little help and assistance in the yard.
The campaign, which launched in phases starting late April, will ensure consumers know that they can depend on Troy-Bilt to make maintaining a yard a little easier and more enjoyable.