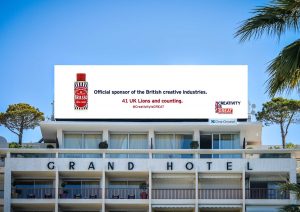 The Department for International Trade is celebrating the success of the UK Creative Services sector at 2018's Cannes Lions Festival of Creativity as it launches a new campaign from M&C Saatchi.
The campaign playfully nods to the haul of silverware the UK is expected to bring home again this year, as it enlists the quintessential British metal polish with a royal warrant – Brasso – the "Official sponsor of the UK creative industries" for the week.
Developed in conjunction with media partners gyro, Clear Channel and voodooh, the campaign will update its creative throughout the week to celebrate the number of Cannes Lions won by UK creative agencies.
Current UK nominees include Adam&EveDDB, Mother, and Grey for their work with internationally headquartered brands such as Volkswagen, KFC and Volvo respectively.
The campaign is live throughout the festival (18-22 June), and will be running in DOOH, including a set piece site above the Grand Hotel (shown here).
The digital poster will be supported across paid social, digital display as well as on the ground PR activity from M&C Saatchi PR. The campaign will also partner with Campaign and Contagious to showcase the exceptional nature of UK creative companies.
The government department, led by International Trade Secretary Dr Liam Fox, seeks to increase international trade and investment as the UK prepare to exit the European Union. The work is part of the department's GREAT International Trade campaign, which promotes British goods and services to international B2B and government buyers across fourteen key sectors.
Toby Orr, Director of Communication & Marketing said: "To work on an international scale and across all formats, adverts need to be based on inspirational creative ideas like these – we aimed to empower UK creative agencies while at Cannes Lions this week and get international audiences to consider finding a UK partner for their next creative execution."
Justin Tindall, Chief Creative Officer at M&C Saatchi said: "It's a great honour to be promoting the UK's thriving creative industries at this critical moment in the nation's trading history. This campaign is a brilliant example of M&C Saatchi's founding philosophy – Brutal Simplicity of Thought – perfect for the unique and bustling environment of Cannes."
Source: M&C Saatchi