Award-winning broadcaster UKTV launched its first content marketing digital campaign for on demand TV service UKTV Play. The series of UKTV Play exclusive episodes of Geek Island are promos purporting to be a new intellectually challenging reality TV series, where SMART is the new SEXY.
Billed as a sizzling new mini-series which follows the amorous and academic adventures of eight hot, young eggheads over four action-packed one-minute episodes where passion, romance and drama combine at a secret party paradise.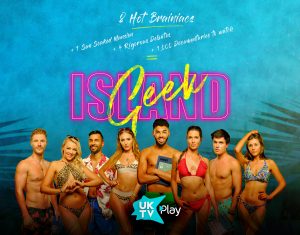 Geek Island features four one-minute episodes, which will be shown on UKTV Play and promoted for a week across the broadcaster's owned social channels, alongside trails and cast promos running on Twitter, Facebook and Instagram. The on-demand box set of episodes will also be promoted via UKTV's partnership with Trinity Mirror.
Commenting on the content marketing stunt UKTV's CMO Zoe Clapp said: "This is a light-hearted and affectionate parody of much-loved reality TV but reimagining it in a world where brains mean more than brawn and chemistry is scientific rather than physical. We're delighted to see it climb to one of the most-watched on UKTV Play on its day of launch and even more delighted see an uplift for people landing on the documentaries collection on UKTV Play website. This is for the nerdy lovers of factual programming everywhere."
Geek Island promotes UKTV Play's collection of documentary and factual programming throughout September, which includes over 1,000 shows available for free, such as Impossible Railways, Wildest Africa, Abandoned Engineering and Forbidden History. The Geek Island cast engage in sexually-charged and heated academic debates within the luxurious mansion.
The premise of Geek Island is simple, the contestants however, are not. The four one-minute episodes will see the attractive eggheads entering the Geek Island mansion as they attempt to find love, experiment and pursue all-important chemistry.
Each of the four episodes feature steamy conversations on topics such as Heisenberg's Uncertainty Principle, the nuances of evolutionary theories and the reactivity of chemical compounds.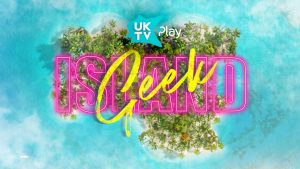 Among the geniuses set to heat up the series like a fully-fuelled Bunsen Burner are Miss England Stephanie Hill (a first-class Radiotherapy & Oncology graduate), Georgie Clarke from ITVs Survival of the Fittest (BA in Fashion and an MA in Fashion Business and Management with Cultural Studies) and University Challenge prodigy Bobby Seagull (currently completing a Mathematics PHD at Cambridge). Contestants have been chosen for their intelligence ensuring that an air of smouldering smartness permeates the mansion while UKTV Play's secret cameras capture all the 'Mensa-magic' that ensues.
Bobby Seagull, currently studying for his PHD at Cambridge, said: "When the Seagull lands the girls come flocking. I'm packing a whopper upstairs in my 19-inch cranium and I'm ready to divide the mansion, subtract the guys and multiply with the girls."
Georgie Clarke, former contestant on Survival of the Fittest, said: "I'm a big believer in the saying 'brains over brawn' and I'm looking for intellectual stimulation and real chemistry in the Geek Island mansion."
Geek Island has been produced by creative agency Taylor Herring in Partnership with UKTV Creative and directed by Jonathan Brooks for St Marks Studios. The films were shot over two days in July 2018.
Source: Taylor Herring