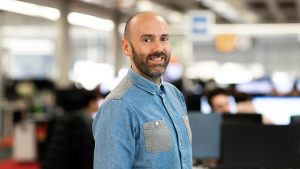 UM has appointed Simon Taylor as Managing Partner for American Express (Amex). Taylor joins the agency from Havas Media UK, where he also held the position of Managing Partner.
Reporting directly to UM's UK CEO Rachel Forde, Taylor will be responsible for driving all of Amex's media delivery in the UK, as well as overseeing programmatic activity across EMEA and with close integration at a global level.
Heavily awarded over his 18 year career, amongst other silverware Taylor has won a Media Week Gold on O2 while at Zenith Optimedia and a Campaign Media Gold for Carlsberg while at OMD. Most recently at Havas Media UK, Taylor led the BBC, Pernod Richard and Penguin accounts.
Rachel Forde said: "2018 was a blockbuster year for the agency and Amex was a hugely significant win for us. We want to build on that success and ensure all our clients can count on the very best strategic thinking. Simon has delivered great success wherever he has worked and we're fortunate to have him. His wealth of experience in planning, brand-building and development will make him an invaluable member of the UM team. Simon will help us to continue offering bespoke, nuanced strategies for one of our flagship clients."
Simon Taylor comments: "It's an exciting time to join UM. While there's no denying I relish the chance to work with a brand as iconic as American Express, I was also impressed by the UM ethos. The business is innovative, effective and constantly looking to evolve its client work through its holistic approach. It's refreshing to be able to approach a global client at an organisation that's working to break down silos. The set-up and wealth of talent at UM presents an opportunity to deliver truly transformational business results for Amex."
Source: UM