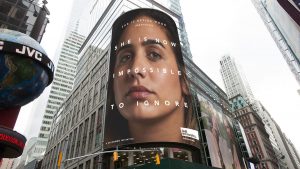 UN Women launched a takeover of media sites in some of the most visible, high-traffic locations in the world to mark International Women's Day and its theme "Think Equal, Build Smart, Innovate for change". 
'Impossible to Ignore', which has been developed in partnership with Havas Group, celebrates the female scientists, inventors, engineers, designers and innovators leading their fields all over the world.
Despite being pioneers, our 'Impossible to Ignore' women have been overlooked for too long.
To bring them out of the shadows, members of UN Women Global Innovation Coalition for Change (GICC) and Havas Group have secured media placements from partners and supporters around the world to deliver over 2 million impressions in a single day.
From New York City's Times Square and JFK International Airport, to the digital billboards of the World Trade Centre and Westfield London. From the London Underground and railway stations across the UK, to a Facebook filter provided worldwide; this co-ordinated takeover incorporates over 1,000 different appearances on digital, out of home and print platforms.
Thanks to contributions from NASDAQ, JC Decaux, The Economist, Walgreens, Westfield, Facebook and more, high profile sites in New York, London and in print and online will display a series of arresting images of today's female innovators emerging into the light; forcing people to stop, pay attention and be inspired by their example.
Shot by two leading portrait photographers in London and New York, Bibi Cornejo Borthwick and Amy Troost, both donating their time and talents for free, the 'Impossible to Ignore' women being celebrated today include:
Amy Williams – Amy founded ethical advertising platform Good Loop. Good Loop allows consumers to opt into advertising and puts revenue back into good causes.
Dr Christyl Johnson – Is the first African-American Deputy Director NASA has ever had. She began her career in space exploration as an intern and never looked back.
Beatie Wolfe – Is a singer-songwriter of exceptional talent. But not being satisfied with just making beautiful music, she's dedicated much of her life to a research study that has proved the link between music and better outcomes in dementia patients.
'Impossible to Ignore' was created for the GICC (Global Innovation Coalition for Change) – an innovative partnership created by UN Women – to mark the launch of its She Innovates programme. She Innovates is the home of up to 100 in-depth inspirational stories of women, including those featured in today's campaign. The aim is to inform and inspire the next generation of female innovators to follow their incredible example. She Innovates also provides vital support, mentoring, meet ups and resources for the innovators of the future.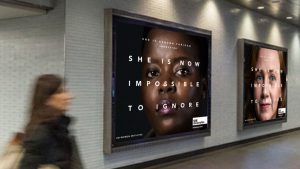 Helene Molinier, Director of UN Women Innovation Facility said, "We need to provide women around the world with access to the resources they need to become innovators in their own right, but also to level the playing field in accessing benefits of innovation around the world. We are so thrilled with the power and impact of 'Impossible to Ignore', and are so thankful for the support we have had from all our partners in making it happen. Let's make sure we don't go another generation ignoring the extraordinary contributions women make."
Havas UK Head of Communications and GICC member, Faye Raincock said; "We are blown away to know that millions of people will be confronted by 'Impossible to Ignore' today in different time zones and on different continents. It has been a privilege to make this campaign happen and we're very proud of it. These women are pioneers and they must not be ignored a moment longer."
Source: Havas Group