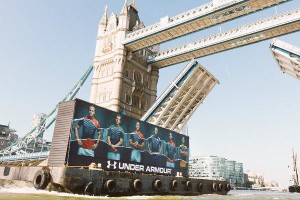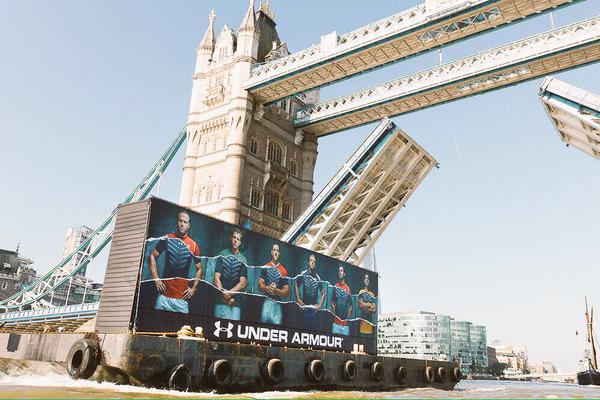 Under Armour and Amsterdam-based WE ARE Pi launched its nationwide Armour campaign in the UK, running across retail, social, digital and out-of-home channels, and kicked off by a unique event on the River Thames.
The integrated campaign highlights the performance products that unite some of the world's top rugby players.
The 30m long vessel transported a huge image of Welsh Rugby Union (WRU) players Jamie Roberts and Leigh Halfpenny, accompanied by fellow Home Nations representatives James Haskell (England), Jordi Murphy (Ireland), Drew Mitchell (Australia) and Canadian Jamie Cudmore, displayed across eight shipping containers.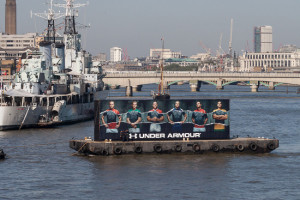 As it passed down the Thames and under Tower Bridge, the mural – which originally showed the players in country colours – was 'ripped' to reveal the Armour baselayer. The creative demonstrates Under Armour's commitment to making all athletes better, regardless of nation or team represented.
Under Armour Director of Marketing EMEA, Christopher Carroll, said: "We partner with the World's top talent in rugby and our mission is to provide our athletes with cutting edge gear to help them train and perform at their best."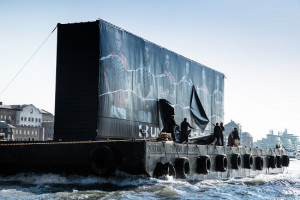 WE ARE Pi creative Partner Barney Hobson adds, "With this campaign we set out to demonstrate that underneath all of the hype is the hard work and dedication of the athletes, and no matter what team you play for, underneath it all is Under Armour."
WE ARE Pi founder Alex Bennett Grant adds, "Under Armour is the world's most exciting brand right now. We can't wait to elevate the brand in Europe, telling it's premium performance story."
WE ARE Pi has created the campaign using powerful portraiture shot by French photographer Denis Rouvre. It will run across OOH, retail and online.