Unilever is working with a variety of influencers to promote the launch of Simple's biggest innovation in years – the Water Boost range – in a campaign created by TMW Unlimited.
The Simple Water Boost range is designed to combat dehydration: a condition in which skin doesn't contain enough water, usually as a result of lifestyle or environmental triggers. It's extremely common but usually isn't recognised, with most people who experience the symptoms just attributing them to having dry skin.
Knowing this, Simple and TMW Unlimited decided to take the products outside the usual sphere of beauty and bathroom mirrors, and instead work with influencers whose passion points were likely to make their skin dehydrated. Their experiences not only help people recognise the symptoms of dehydrated skin, but also demonstrate the instant hydration the Water Boost range delivers.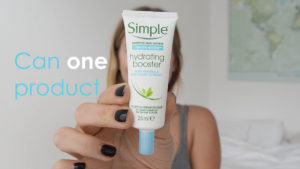 TMW Unlimited has worked with the influencers – who include Mollie Bylett, Zoe DJ London and Tally Rye – to co-create content that can live on their own social channels, such as YouTube and Instagram, as well as can be edited into promoted content for use in video seeding and social. The campaign breaks on September 5 and will run for nine weeks. Media buying is through Mindshare.
Eduardo Briola, senior brand manager at Unilever, said: "This has been one of Simple's biggest and most important launches in years so we have been delighted by these influential social influencers have also been pleased with the product."
Jen Cownie, Senior Planner at TMW Unlimited added: "We know that, when it comes to beauty, consumers believe that their peers – whether friends or influencers online – are the best sources of advice. The new Water Boost range is a major innovation in high street skincare, and we decided that the best way to prove the products' efficacy would be to get people who could really benefit from the range to try it out for themselves."
Source: TMW Unlimited