Everyone loves the outdoors; it's an escape and the antidote to the chaos of our busy lives.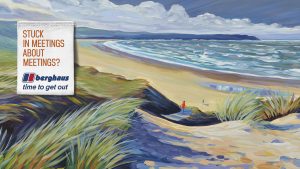 But modern life has a nasty habit of getting in the way. We often find ourselves doing the things we swore we wouldn't. Living vicariously through an Instagram feed, expressing our emotions solely through emojis, or spending back-to-back summer weekends bingeing on episodes of Love Island.
That's why Berghaus is here to help.
Their striking new campaign draws attention to the moments when we realise that we've lost all perspective, to remind us that when we catch ourselves over-indulging it's time to grab your Berghaus and get out.
The campaign features a series of beautiful oil paintings by up-and-coming British artists. The calm landscapes are juxtaposed with humorous taglines about photo filters and pointless meetings. It's a jarring reminder of how ridiculous modern life can be, especially when we are agonising over which emoji to use.
This is the first piece of work for VCCP since they won Pentland Brands earlier in 2018. It will run across OOH, digital and social and will be followed by an animated TV spot later in September.
Chris Tattersall, Head of Brand Management at Berghaus, said: "Working with VCCP has been a truly collaborative effort; routing the campaign in consumer insight and developing creative which has performed exceptionally well in testing. We're looking forward to it bringing a smile to people's faces as we remind them it's time to get out."
Jim Thornton, Deputy ECD at VCCP, added: "Working in an ad agency you have so many 'time to get out' moments every day that this campaign almost wrote itself. And who better to represent the outdoors than landscape painters who spend their lives outside, battling the elements, to capture the beauty that abounds all around us in the British Isles?"
Credits:
Project name: Time To Get Out
Client: Berghaus/ Pentland Brands

Creative Agency: VCCP
Executive Creative Director: Darren Bailes
Creative Director: Jim Thornton
Writers: James Rafter & Jim Thornton
Art Directors: Myles Vincent & Ali Augur
Designers: Tom Loach & Jess Steimer
Head of Art Buying: Ben Cole
Group Head of Planning: Andrew Perkins
Planner: Jenny Nicholls, Max MacBeath
CEO: Andrew Peake
Business Director: Bridget Limbrey
Account Director: Abby Fox
Account Manager: Matilda Jones
Agency TV Producer: Ed Mueller
Creative Producers: Ben Waters, Cathy Ollmedillas
Media Agency: Mediacom
Production Company: Jelly London
Director: Em Cooper
Producer: Sue Loughlin at Jelly
Audio post-production: Parv Thind at Wave
Source: VCCP