Visa has hit home its partnership with the Olympics with a new campaign called Heart of the Olympian.
Looking to drive awareness of Visa's sponsorship and generate excitement ahead of the greatest sporting event on earth, the video focuses on the metaphorical and literal heart strength required to take gold.
The film, directed by Juan Cabral and formulated by Saatchi & Saatchi London, sets the scene five months before the launch of the competition.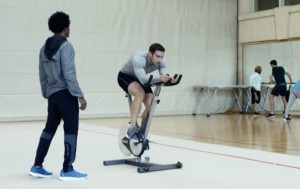 Gary Twelvetree, executive director, brand and central marketing at Visa Europe, said: "Visa's dedication to the Olympic movement, National Olympic Committees and individual athletes has helped ensure the continued success of the Olympic Games.
As an Olympic sponsor, Visa Europe can bring fans closer to the heart of the Games in Rio. Visa is the beating heart of payments – our system never stops and works whenever and wherever it's needed. Just like the Olympians that will compete in the Games this summer, Visa is always on and ready to perform. This film is a celebration of that synergy."
A 90 second version of the film will be shown in participating cinemas in the UK, also running across channels including Facebook, Twitter, YouTube, created especially for the campaign.