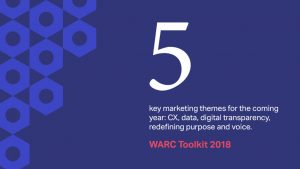 WARC, the global marketing intelligence service, has today released Toolkit 2018, an annual guide to key trends and challenges that marketers around the world will be faced with in the coming year.
At the heart of the report is a survey of more than 600 marketing and advertising professionals around the world to obtain their outlook on the year ahead. These findings are combined with the latest examples, research and expert opinion from WARC.
"The focus of the Toolkit is on the challenges brands expect to face in 2018, and how best to overcome them," comments David Tiltman, Head of Content, WARC. "Brands are wrestling with what is termed 'digital transformation' – and the recurring themes in the survey include a focus on customer experience, artificial intelligence, digital transparency and a total rethink of brand-agency relations."
Five major industry issues are highlighted in the report:
1. CX is now a key battleground: Customer experience (CX) is a 'digital transformation' priority for 2018, meaning a growing focus on customer journey mapping, and rising investment in experience optimisation technology. It also means that advertising agencies will see an ever-growing challenge from management consultancies promoting CX as the future of brand-building.

WARC key data: 53% of brands will prioritise CX within their digital transformation strategy.
2. AI is moving mainstream, with voice emerging as a key interface: As artificial intelligence (AI) becomes the most important emerging tech in 2018, voice is now emerging as an important new interface between consumers and their devices, and the combination of voice and AI is opening up a new frontier for brand-building. From audio branding to voice-activated purchases, this could have big implications for marketers.
WARC key data: 56% of brands will prioritise AI in 2018, and almost one in four are planning to use voice.
3. Redefining Purpose: Purpose is one of marketing's great ongoing debates: how necessary and valuable is it for a brand to centre its activity on a single, consistent 'purpose'? In 2018, the challenge will be recognising when (and how) purpose can drive sales as well as social good.
4. Brands will pressure suppliers for digital transparency: 2018 will be pivotal to the development of digital, as the current drive for transparency continues. Viewability and digital measurement is the number one issue faced by brands; more than 30% of marketers surveyed by WARC expect digital spend to be cut if these issues are not resolved.
WARC key data: 51% of brands believe there is a crisis of trust between brands and agencies.
5. Marketers are looking for greater control over customer data: Data – and, in particular, data management – will be a major brand concern in the year ahead. This is partly a reflection of new regulations coming into force. These dovetail with a broader push by brands to take control of their many data sources. Data will be key to delivering the "mass one-to-one marketing" which will fuel the next wave of digital growth, according to Procter & Gamble's Chief Brand Officer Marc Pritchard.
WARC key data: Only 22% of brands and 18% of agencies believe they are prepared for General Data Protection Regulation (GDPR).
Source: WARC