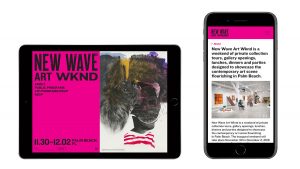 New Wave Art Wknd, a program that celebrates new and emerging artists in Palm Beach, launched their redesigned website, tapping acclaimed creative director, William Richmond-Watson, founder of NYC-based creative consultancy, Watson & Company.
Founded by Sarah Galvak, New Wave Art Wknd was created in 2005 to celebrate up-and-coming artists while analysing critical issues in not only the art community but society as a whole.
Watson redesigned the website, aligning a vibrant, eye-catching pink with the weekend festivities. They focused on elevating the logotype and titles to highlight the programs hosted at the founder's gallery.
Source: Watson & Company