Sky Mobile launches their new creative platform, "Hello Possible" created by WCRS. The award-winning film director Nicolai Fuglsig brings to life the magic of possibilities in a TV launch ad featuring British actress Lily James.
The "Hello Possible" campaign invites people into the bright and optimistic world of Sky Mobile – where the usual rules don't apply.
It's a world where you can do things you couldn't do before – like fly across a busy road with the help of a newspaper, jump in a puddle to cause a mini tidal wave and, of course, swap your phone each year, change your plan any time and roll over all your unused data.
The new brand positioning for Sky Mobile is born out of a belief that the old, rigid mobile networks of the past are too inflexible. Sky Mobile provides a welcome antidote, offering customers the freedom of a more flexible network and making possible what was not previously so.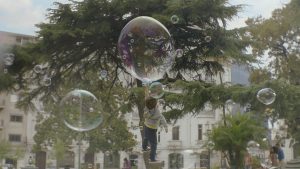 The 50" launch TV ad, which features The Beach Boys' classic "Wouldn't It Be Nice" as the soundtrack, will be followed by a 30" spot focusing on Sky Mobile's Roll product, with both supported by outdoor and radio.
Leon Jaume, Executive Creative Director at WCRS said: "Anything is possible, we are always told. Anything? Well, if Sky can revolutionise the way you use your mobile, surely we can fly around on giant bubbles, pause time and stand in awe of Lily James's juggling skills? Thanks to Nicolai Fuglsig's deft touch, we absolutely can."
Luke Bradley-Jones, CMO of Sky UK and Ireland said; "This is an exciting new chapter for Sky Mobile, as we launch our pitch winning work from WCRS. Our campaign launches a world of possibilities for our customers, with a fantastic new product offering, most notably Roll, where customers can roll over their unused data from month to month."
Source: WCRS