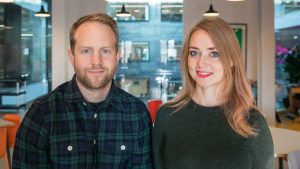 Global socially-led creative agency We Are Social has promoted head of editorial Charlie Cottrell and creative director Gareth Leeding to group creative directors.
Cottrell joined We Are Social in 2013 to launch the agency's editorial department, which has grown to a team of 21 editors and writers, many of whom come from journalism backgrounds. She has radically changed the way the agency creates social content for clients, championing the strategic value of editorial to help the world's biggest brands tell their stories.
Leeding joined the agency in 2012 and has since been responsible for a portfolio of award-winning work for global brands including adidas and YouTube. He was part of the team responsible for the creation of the agency's first stand-alone division, We Are Social Sport, which launched earlier this year.
The promotions to the newly-created role come as part of an internal restructuring of the agency's creative department leadership, with Cottrell and Leeding becoming joint second-in-command to executive creative director, Alistair Campbell. Leeding will also take responsibility for line managing all creatives within the agency, expanding his reach beyond the agency's sports division, We Are Social Sport. Cottrell will continue to oversee the day-to-day running of the editorial department.
"During their time here, Charlie and Gareth have done exceptional work to ensure our clients stay at the forefront of shifting consumer behaviour. Charlie has not only been responsible for growing the UK's largest social-specialist editorial department, which has helped to shape the creative direction for some of the world's best-known brands; this year she has also championed the production of Braving the Backlash, a report which aims to help brands tackle hate speech online. This move to further integrate our creative functions is a testament to the role that editorial plays in driving our vision forward," said Alistair Campbell, executive creative director at We Are Social.
"Gareth was the very first creative through the doors of We Are Social more than six years ago. Fast forward to today and he now oversees a large creative team, has been instrumental in the creation of the agency's dedicated sports division, and has even reinvented some of the key moments in sporting culture, such the now-famous Pogba X Stormzy transfer announcement. His new role will bring his experience and exceptional talent further across our portfolio of clients, helping to ensure we deliver on our creative vision."
Charlie Cottrell, group creative director at We Are Social added: "We're at a moment in time, when social media has come into its own. It's driving mainstream news and it's a catalyst for today's culture. Brands need people and agencies who understand how to navigate this, how to uncover new audiences and speak to them with authenticity. It's not enough to grab attention in the newsfeed, work has to add something of value to the communities it wants to reach."
Gareth Leeding, group creative director at We Are Social commented: "Social is no longer just a platform for conversation. Over the last decade, we've seen social grow from community management to Cannes-winning campaigns and beyond. The biggest challenge now is to make work which has a social impact, tapping into the power of communities and offering experiences that enhance their lives. Social has the power to change the world in a positive way. I'm looking forward to proving this."
Source:Â We Are Social