The walk for water that sees millions of women and children across the world taking up to an astonishing 20,000 steps every day to collect water, is being brought to life at Wimbledon this summer in the first ever use of augmented reality at The Championships.
The Wimbledon Foundation has partnered with international charity WaterAid to champion clean water, helping make clean water a normal part of daily life in some of the world's poorest countries to give whole communities the chance to reach their full potential.
A pop-up photo exhibition in the Queue at The Championships has been sharing stories of people who have no choice but to walk up to 16km in a day to collect dirty water for their families alongside accounts from people whose lives have been transformed since getting clean water in their village.
By activating the new AR Experience option in the Wimbledon app, the stories from around the world will come alive before visitors' eyes.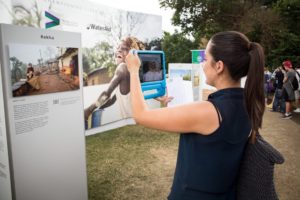 Alongside the exhibition, the inaugural trial of AR technology at Wimbledon, delivered by the AELTC team in partnership with IBM, Livit Media and Spark Compass, also brings to life the historical plaques at Wimbledon, and an additional insight into No.1 Court.
One story featured will be that of Zahra, 15, from Oromia, Ethiopia, who takes around 10,500 steps to collect water from a dirty spring, which she says "is very dirty because animals pee in it". She covers a distance of almost 8km on each journey while carrying a heavy container across "difficult terrain".
While walking 10,000 steps is the aim for many of us in an attempt to keep fit, this daily trek means Zahra has little time for much else and often has to miss school. For each trip, she walks four times further than the average male tennis player covers in a single match at Wimbledon (1,970m and 2592 steps) and over five times more than the average female tennis player (1,371m and 2,042 steps).
Sometimes Zahra has to go twice a day, covering a distance of nearly 16km. At 20,000 steps, she walks even further than Imogen, who handles Rufus the Hawk who scares the pigeons away at Wimbledon and walks an impressive 15,000 steps a day around the Grounds while on patrol with Rufus.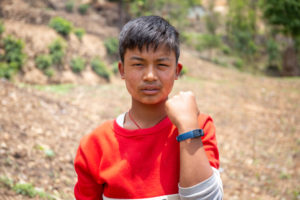 Bijay, 14, from Kavre in Nepal, started collecting water after the 2015 earthquake destroyed the source near his home. He goes twice a day, walking 3.7km and taking around 5,175 steps. That's 1,000 steps more than the average Ball Boy or Girl takes during their one hour shift on court during The Championships, in which time they complete an average of 4,232 steps.
Bijay often misses school as a result of this daily burden. He values his education very highly as he has ambitions to be a politician to serve the community. With clean water close by, he will get closer to his dreams becoming a reality.
The exhibition also highlights the transformative power of clean water. For example, Zainab, 35, from Pakistan, used to spend three hours a day collecting water, but that changed a few months ago when WaterAid installed pumps at three points in her village. Now, the walk to clean water is just 46 steps and Zainab spends her newfound time making bamboo mats with her husband to sell, and socialising with the other women in the village.
Marcus Missen, Director of Communications and Fundraising at WaterAid, said:
"Around the world, 844 million people don't have clean water, meaning they have to make long, sometimes treacherous, journeys every day to collect water sapping their time and energy. Imagine what they could achieve with clean water close to home! Having this basic human right helps give people the chance to excel and achieve their goals, maybe even becoming the champions of the future. No one should have to waste their life walking for clean water or risk their lives drinking dirty water."
The Wimbledon Foundation will donate £100,000 annually for the next three years to WaterAid to help transform even more lives by improving access to clean water in poor communities in Ethiopia, Malawi and Nepal.
Helen Parker, Wimbledon Foundation and Community Manager, said: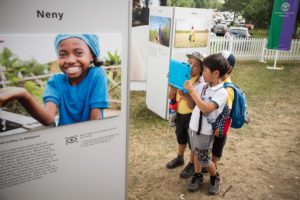 "It's hard to imagine becoming a Wimbledon Champion without having clean water to drink – it's a vital ingredient to health and success. Yet, one in nine people around the world don't have this basic resource, affecting children's education and claiming 800 young lives every single day. The Wimbledon Foundation is proud to be championing clean water through our partnership with WaterAid and helping children in some of the world's poorest communities fulfil their potential." 
WaterAid and the Wimbledon Foundation are also inviting people to find out how far they walk each day. To find out if you cover as much ground as a Wimbledon Champion, try out WaterAid's quiz at: https://watera.id/mysteps