Not long ago, many people would have loved to have a direct line to LeBron James's answering machine—to leave him a nasty message, or 10.
Times have changed, to the point where many people might actually congratulate James on his second NBA championship in a phone message. Wieden + Kennedy lets you do just that in a campaign launched last Friday, the morning after the Miami Heat put away the San Antonio Spurs for their second title in three years.
A 60-second, mostly black-and-white spot, done in classic, typically minimalist W+K style, opens in a darkened room, where an old-school answering machine sits on a table, red button blinking. The camera slowly moves in, as we hear various friends of James's leaving messages, punctuated by beeps.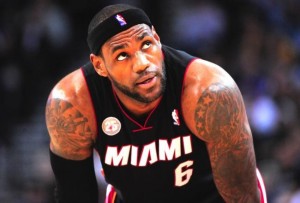 • Spike Lee: "Yo, LeBron, what's up? This is Spike. Congratulations. One love. I'm out!
• Warren Buffet: "Hey, LeBron. It's Warren Buffet. I'm sure glad you're using that hook shot that I taught you."
• Dr. Dre: "Yo, LeBron. What up! What up! It's Dr. Dre. Hey, man. I know how tough this series was, but you did it again. Can you believe it!?"
• Mike Krzyzewski: "Hey, LeBron, it's Coach K. Wow! Two in a row!"
• Guys chanting: "MVP! MVP!"
• Phil Knight: "Hey, LeBron, Phil Knight. Fantastic year. You might really be worth all that money we pay you."
• Children: "Hey, Mr. LeBron. It's your Wheels for Ed/I Promise kids. You're our hero."
• Drake: "Yo, Bron, what's up, man. This is Drake. It's your time. I always tell you that. OVO, La Familia, four horsemen—it's love, man."
• Bill Russell: "LeBron. Bill Russell. Remember, almost anybody can win one. Welcome to the circle. [phone rings] OK, hold on a second. My other phone's ringing. It will stop in a minute."
Then, a note appears on screen—"Hit LeBron at (305) 767-2226."
A personalized, engaging, fan-focused social initiative kick-started by a simple spot with fun and varied celebrity cameos—W+K and Nike have nailed it again. The Phil Knight bit is particularly amusing—a wry bit of self-awareness in what's a very savvy campaign.
Now, what will they do with all the recorded messages?