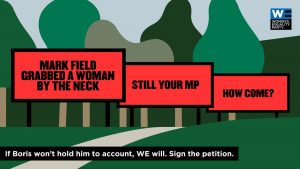 Inspired by hit movie Three Billboards Outside Ebbing, Missouri the Women's Equality Party has run a poster campaign to highlight the inequality involved in the lack of action against Mark Field, MP for City of London and Westminster, after he grabbed a woman protestor by the neck. 
Created by the WEP's agency Quiet Storm, the 48-sheet poster, which was driven by a van around Field's constituency, displayed an illustration of three red billboards with the question: MARK FIELD GRABBED A WOMAN BY THE NECK/STILL AN MP/HOW COME?
The campaign uses the famous visual reference from the film, and the same construct to highlight the injustice of Mark Field not being held accountable. People are then asked to sign a petition to have the MP stripped of his position.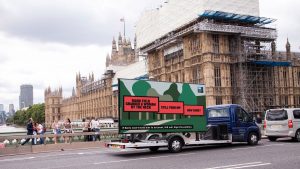 The billboard launch follows Prime Minister Boris Johnson's decision to drop an investigation into what happened when the MP grabbed female Greenpeace activist Janet Barker by the neck during a dinner.
This is the second piece of work created by Quiet Storm for WEP since being appointed in April and follows their poster that took on Nigel Farage, releasing a giant billboard mocking his controversial "Breaking Point" poster. The work highlighted that in fact Brexit has driven our NHS & social care to breaking point with thousands of nurses from EU27 countries leaving and 1 in 10 posts now being vacant.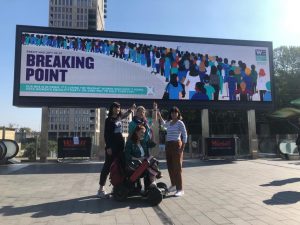 Tabitha Morton, Womens Equality Party spokesperson for ending violence against women and girls said: "The decision to drop the investigation into Mark Field MP, despite video evidence of him grabbing a woman by the neck, shows just how little our Prime Minister cares about violence against women and girls. It sends a message that powerful people can act with impunity if Boris Johnson needs their support."
Anna Coscia, planning director at Quiet Storm said: "It is worth noting that currently you can recall an MP for falsely claiming expenses but not for violence or sexual harassment. It is absurd and we felt it was time to do something to change this."
Source: Quiet Storm