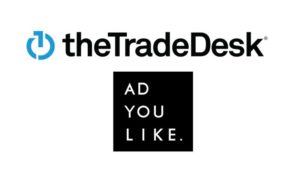 ADYOULIKE, a leading in-feed native advertising platform, has announced an expanded collaboration with The Trade Desk, a global technology platform for buyers of advertising, to deliver in-feed native videos programmatically across the ADYOULIKE publisher portfolio.
This expanded integration builds upon the existing OpenRTB 2.3 with The Trade Desk and ADYOULIKE which was announced in October 2016. The furthering of this partnership will bring The Trade Desk's large base of advertising buyers the ability to place native video across ADYOULIKE's extensive global publisher network that uses its DNA SSP platform.
Through The Trade Desk's self-service platform, which allows buyers of advertising to manage their digital campaigns across a range of advertising formats, this creative capability will become available and provide buyers with access to the latest in native advertising technology.
This extended partnership builds off a previous global programmatic native integration agreement between The Trade Desk, Inc. and ADYOULIKE which was announced in October 2016. The agreement saw ADYOULIKE's native advertising supply side platform (SSP), integrate with The Trade Desk's platform to expand the digital advertising ecosystem for advertisers and publishers further.
Francis Turner, General Manager (GM), US and Chief Revenue Officer (CRO) of ADYOULIKE said: "We are increasing our relationship and products with The Trade Desk to give their buyers access to native video which is the latest development in native advertising technology and will soon form the basis of all native advertising campaigns moving forward."
Joel Livesey, Director of Partnerships, EMEA at The Trade Desk says: "The addition of native video in our integration with AdYouLike is great news for The Trade Desk's clients. This reflects growing demand and ensures The Trade Desk's clients have access to omnichannel supply from our Inventory Partners.  Native has been one of our fastest growing channels in 2017, and this native video expansion with AdYouLike will further facilitate the adoption of native advertising."
Source: ADYOULIKE