Barclaycard launches the next phase of its 'Start Today' campaign with a disruptive film featuring British star Nadia Rose to inspire people to get started on the things that matter most to them.
The multi-channel campaign featuring the new film debuted on 13th October across TV, cinema, social media and Barclaycard owned channels, and kickstarts a fresh approach to Barclaycard's 'Start Today' brand positioning.
The latest instalment of Start Today encourages people to go out and turn their dreams into reality, following in the steps of rising hip-hop artist Nadia Rose. Tapping into a new fanbase, the uplifting content encourages people to take stock and embrace the things that matter most to them.
With first-hand experience of what it means to push yourself towards your dream, the 25 year old musician is the perfect fit to star in Barclaycard's new Start Today campaign and inspire a new generation to move forwards. Nadia experienced the empowering feeling that arises after kickstarting a passion, when her dream of becoming a rapper became a reality. Flash forward a few years, and she's been signed by Sony Music and is touring the world with her music.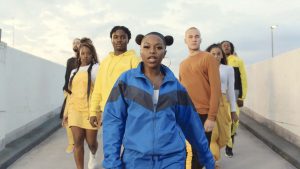 The challenges Nadia faced along the way has made her determined to encourage all those who dream of starting something one day, to take action and make it happen.
In the video, a disheartened Nadia, is seen as an animation wishing and waiting before she disrupts the narrative with a feisty statement: 'Enough of all the wishing and waiting! My story ain't playing out that way'. Stepping through the door into the realm of reality and bursting onto the street dancing, Nadia's quick-witted lyrics enthuse Barclaycard's messaging on the chorus: 'Let's take action, make it happen'.
Alex Naylor, UK Marketing Director at Barclaycard, said: "Start Today is all about helping more people realise their passions and not put off what they could be doing today. Nadia's story struck us as the most authentic example of this and the video captures Nadia inspiring young people around the country to take action and make their aspirations a reality. The new campaign chimes with Barclaycard's brand promise to help more people move forwards every day. At Barclaycard, we are constantly looking at new ways in which to engage our audiences. To bring this to life, our media strategy looks to drive talkability and effectiveness, through the use of carefully selected TV spots, cinema and various social and digital formats."
Source: Barclaycard