With no official English anthem released to spur on the country's football team this summer, LOVE have called upon musician Brett Domino to fill the void in the musical airwaves, with a classic singalong track, in partnership with Umbro.
Brett, the alter-ego of comedian Rob J Madin, is leader of the Brett Domino Trio, best known for his tongue-in-cheek YouTube videos.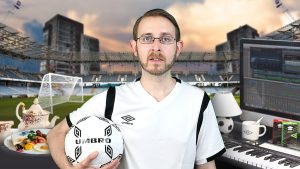 Developing the concept 'How to Make a Hit Football Anthem' in which Umbro has been positioned at the heart of Brett Domino's new self-penned football anthem, the campaign will run across YouTube and Umbro's social channels from June 7th to July 22nd.
As Umbro are not an official sponsor of 2018's World Cup, there are a few words and phrases that Brett has unfortunately had to leave out for legal reasons, however, this only adds to the light-hearted sentiment of the campaign. That, and the fact that Brett Domino is somewhat lacking in his football knowledge.
Umbro haven't allowed this to get in the way of what is sure to be a winner with football fans across the country, leading the England team to great heights this season.
To follow all the campaign action, use the hashtag #EnglandAnthem this summer.
Source: LOVE.