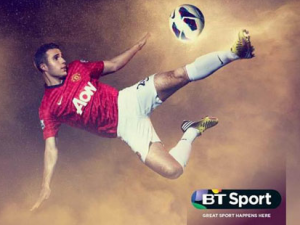 BT has ramped up its marketing campaign for its new Sky-rival BT Sport service, which offers 38 exclusive Barclays Premier League and Scottish Premier League matches, by announcing the service will be free to BT broadband customers.
BT Sport 1, BT Sport 2 and ESPN will also provide coverage of the FA Cup, Europa League, Bundesliga and Serie A, as well as rugby union coverage.
The channels will have exclusive rights to 18 'top pick' football games and 69 live Aviva Premiership rugby matches, previously shared between Sky Sports and ESPN and from 2014 the service will provide coverage of MotoGP, again with exclusive rights.
The news will further heat up the competition between BT and the UK's long-standing sports broadcaster, Sky, which has already refused to run any adverts for the new service during any of its own sports coverage.
BT chief executive Ian Livingston said: "UK sports fans have had a rough deal for too long. Many have been priced out of the market but we will change this by giving away BT Sport for free with our broadband. Sports fans are the winners today."
BT has signed up Spurs star Gareth Bale to be at the forefront of marketing campaigns for the next three years, alongside Manchester United's Robin van Persie, Liverpool's Daniel Sturridge and England goalkeeper Joe Hart.
Michael Owen, Darren Fletcher, Rio Ferdinand, Owen Hargreaves, David James MBE and Steve McManaman are among big sports names revealed as pundits across the channels' football coverage, while a role on the commentary team has also been created for Premier League referee Mark Halsey.
Ray Stubbs has been named chief football reporter and Jake Humphrey will anchor BT's coverage of the Barclay's Premier League. Journalist and broadcaster Des Kelly will anchor new sports show 'Life's a Pitch', while Clare Balding is set to present a weekly sports magazine chatshow.