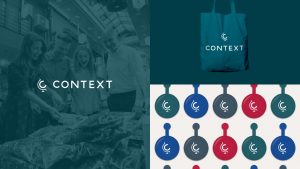 Independent design studio, Studio Rodrigo, reveals a rebrand for Context Travel with an evolved brand strategy, positioning and identity to help the travel company share its walking tours with travelers who love to learn.
The studio also unveils Context Travel's new website, brand and marketing guidelines and work on web and digital acquisition strategies.
The rebrand is an important step forward for Context Travel reflecting its unique offering, helping it compete against digital native rivals, and providing a platform for future growth. More broadly, this  rebrand shows travel firms with a strong localised offering how they can share their experiences with a far wider audience.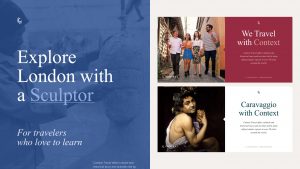 In the early 2000s Paul Bennett and Lani Bevacqua quit their jobs in NYC, sailed across the Atlantic and landed in Rome, where they began to lead tours exploring the city's many cultural and historical sites. Context Travel was born.
Today, Context Travel is an established guided walking tours operator aimed at high-end travelers who want to learn. Experts lead private and semi-private city tours such as From Bauhaus to Futurism: Berlin's 20th Century Architecture, Daily Life and Globalisation in Beijing or Contemporary Budapest: Politics, Conflict & Culture.
The business received investment from a private equity group early last year to help it expand.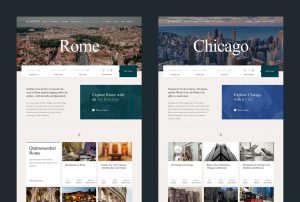 Evan Frank, CEO, Context Travel, says: "We knew we had a great reputation and a solid business, but we needed to elevate our brand and positioning and communicate better across our digital channels to position ourselves for growth. Studio Rodrigo is nimble, flexible and had a digital first mentality to ensure the brand refresh could be executed effectively across all our key channels including web, social and on tours."
"Travel experiences are a very fragmented category – customers buy the experience in one country, often online, but the experience itself is delivered locally around the world. Context Travel saw an opportunity to grow the business by refreshing its brand and relaunching the digital platform as a springboard for deepening relationships with existing brand loyalists, while also expanding reach to new segments," says Ritik Dholakia, Founder and Managing Partner, Studio Rodrigo.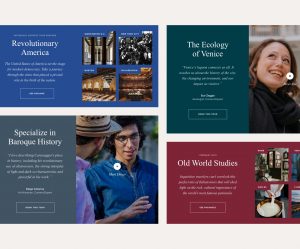 "The core strategy of the digital brand refresh was to distill the essence of what people love about the Context Travel brand – unique, perspective-changing experiences for travelers who love to learn – into a more contemporary expression for a digital brand. And the challenge was to take Context Travel to a wider global audience and communicate its expertise using a digital experience when the tours are delivered to customers at a local level."
A refreshed brand and digital platform connects with Context Travel's audience but also attracts new customers, helping it to grow brand awareness within the USA and Canada, its core demographic, but also in new markets around the world. The rebrand focuses on 'travelers who love to learn', broadening its appeal from previous language which centred around 'the curious traveler'.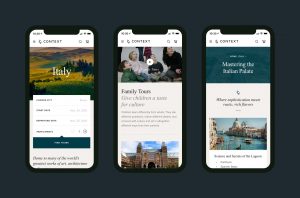 The rebrand hinges on a digital transformation and includes redesigning the brand identity to refine and elevate it, reflecting Context Travel's high-end offer. The updated visual identity strikes a balance between classical motifs and contemporary execution with a modernised core mark.
The addition of a logo based on a classic desk globe motif, signifying travel, exploration and learning and a digital identity system includes a sophisticated colour palette and classic typography. This aims the brand at travelers who want to expand their knowledge with a more refined and contemporary identity, making it more approachable and elevated to broaden its appeal.

Improved photography, video, website design, layout and content, lift the digital experience.
And a balance of easy to scan and use product pages, as well as booking flows, along with more visually led home, city and tour pages including more storytelling, better presented images and a content strategy which details the guides' expertise, brings tours to life.
Copy reflects the unique offer, with simple and approachable language which is easy to read on a website.
Dholakia adds: "Even though Context is an established business, it was operating like a start-up in order to grow and we were able to function as their start-up design team in order to allow them to quickly and efficiently execute an ambitious brand refresh plan on a fairly tight timeline."
Frank adds: "Core to the success of the brand relaunch was the way Studio Rodrigo took a digital first approach. The majority of our customers interact with Context Travel and buy our products online. And the plan the team created allowed the rebrand to be rolled out in stages so that the existing business wasn't disrupted. The reception so far has been extremely positive."
Source: Studio Rodrigo